Count the Dead
The death of one man is a tragedy," Stalin is supposed to have said. "The death of millions is a statistic." There is value, however, in taking a statistical view, if only to reveal the depth and nature of the tragedy. CSI:D digitizes, datafies, and makes publicly available 2,444 coroners inquests taken over the course of the nineteenth century in ten South Carolina counties. The counties were chosen for a simple reason: they had the largest, most complete sets of records. In addition, the CSI:D visualization engine allows users to examine two other inquest samples, one from Virginia and one from Missouri, digitized under different auspices but datafied to the CSI:D standard.
I believe it is especially incumbent upon digital humanities projects to state very clearly at the outset not what their data does and doesn't say but what it can and can't say. Humanities data is almost never like scientific data, which is to say highly controlled and created in a laboratory under ideal conditions. Humanities data, especially older data, is created amid the Sturm und Drang of human life; it is highly contextualized, limited by the ends and means—what I call the 'data conception'—of the people who created it. In later sections, I highlight what our data does say and invite users to explore alternative readings and insights; in this section, we explore what our data can say, and especially what it can't.
In the nineteenth century South, the coroner investigated a tiny fraction of deaths. (My 'best case' estimate, as we'll see, is 3%.) A woman who died on the birthing couch was so unfortunately common that the coroner would never have been called. Too often, an overseer could whip a slave to death, bury the remains, and a coroner might never have known about it. In the nineteenth-century, coroners tended to stand over bodies that could not be immediately explained or explained away: a dead woman washed up on a foreign shore, a stranger expired in the public square, a body hanging from a rafter who had no friends to cut him down. Especially early in the century coroners were the kissing-cousins of the sheriff, with all that that implies about their potential biases and priorities; coroners specialized in mortal intrusions upon the body politic—civic problems that needed to be solved. Though it pains me to put it this way, coroners were the 'road-kill' crew of the county bureaucracy, and it took the whole of the nineteenth century for them to (imperfectly) become what we hope they might be today, medical examiners and agents of public health. No graphic on the whole of this site, then, is more important than this one: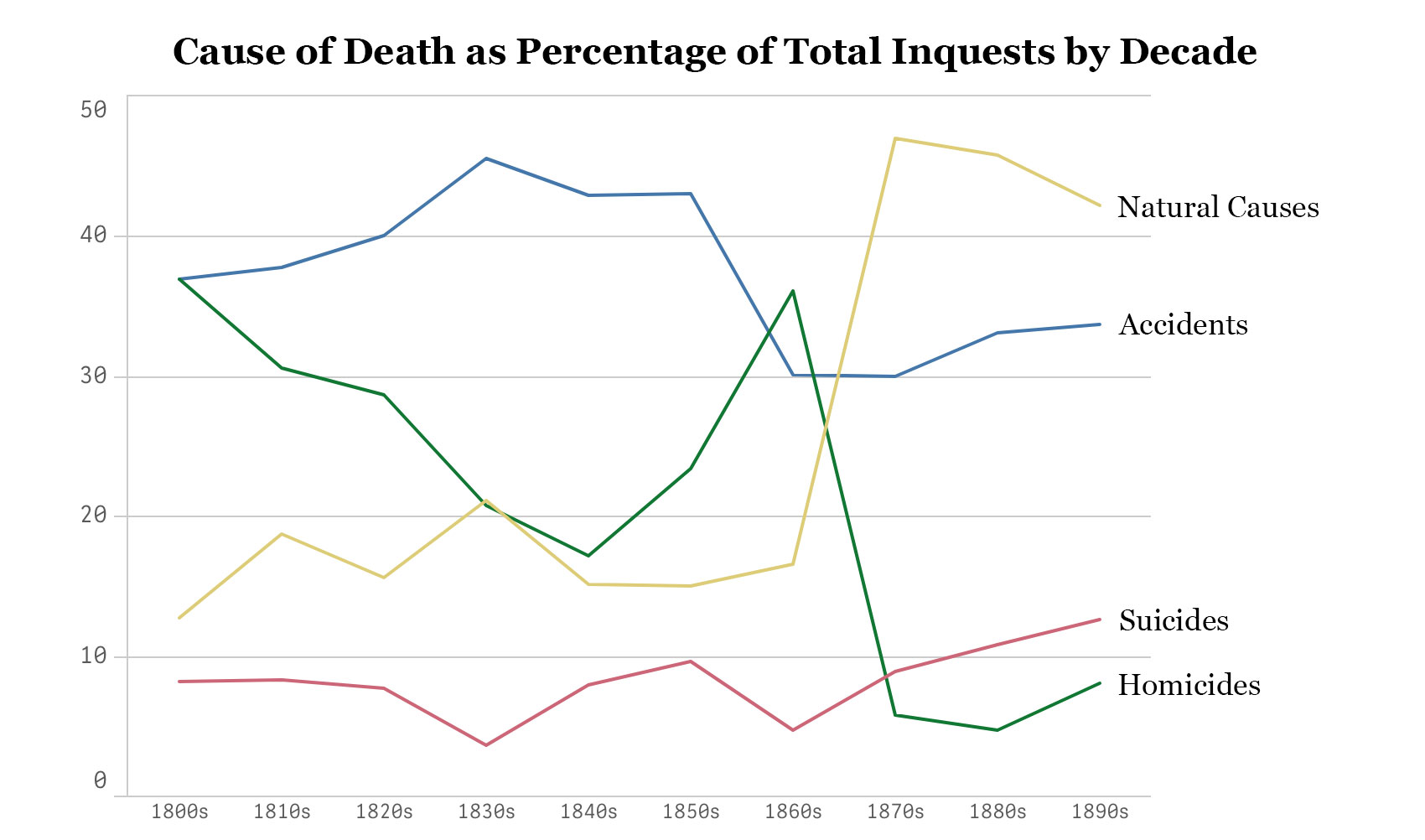 This graphic may look like tangled spaghetti, but what we're seeing is this: as a percentage of total inquests over time, accidents and suicides stay roughly constant; homicides and natural causes switch places. What does this mean? Were our forebears more murderous than we are, and now we live more innocent lives? No. Once, as imperfect agents of law enforcement, coroners specialized in the 'horrible' until gradually and unevenly they became agents of the more 'mundane' and typical, which is to say they became medical examiners or at least medical-examiner adjacent. A nineteenth-century inquest, then, does not correlate with death generally but with a specific kind of death—the kind the then-constituted authorities chose to investigate. CSI:D, it should be admitted at the outset, is erected on a foundation of bureaucratic bias and whim, putting me in my mind of Edgar Allan Poe's last line as an author: "The basis on which the [entire] structure rests seems to me to be chalk." Except that this isn't quite true. The entire structure rests upon shifting sand, which is more or less true for any data gathering system. While I would love as a historian to look at this data and make broad claims about change over time, the data doesn't permit it, just as it wouldn't permit it over a long period today. The solution is always to compare apples to apples. If, as a percent of an entire decade's sample of homicides, more homicides were committed by gun in the 1860s than in the 1840s, this is a valid claim, and one worth investigating. There is no known bias in the coroners' system that would suddenly cause them to care, one way or the other, about the weapon-of-choice for the homicidally-inclined. This raises another important point. The earliest DH projects (Valley of the Shadow, for instance) revolutionized how we store and access information—massive archives of raw data were made searchable via the web. If the data were more available, however, they were not necessarily more digested; the mess of the past had merely been reproduced in digital form. Newer DH projects revolutionize how we collect, sift, render, layer, visualize, and analyze information. They tend not, as in cliometrics, to answer questions but to raise them, using computing technologies to find (and display) new patterns and meanings within the data that we can then subject to further qualitative analysis and study. The ethic that animates CSI:D is humility, and a determination to use imperfect data to raise interesting questions.
There are other, equally important, caveats about this data, beginning with the differences in the samples for each state:
---
The South Carolina Data
CSI:D datafies, which is to say categorizes and disciplines, three state datasets, each with its own origins and strengths. The South Carolina sample, funded by the ACLS and the Willson Center, is eHistory's attempt to gather together every extant coroner's inquest for the state over the whole of the nineteenth century. We began with the counties for which the most records survive and worked our way down. (Sherman made a particular point of decimating county courthouses, and fires and floods have done an equal amount of damage since. Even today, county records are the most deeply endangered in the historical profession, and yet they are the most historically important: Especially in the nineteenth century, most Americans lived their legal lives at the county level.) By deliberately gathering data for the whole of a century, the South Carolina sample has the peculiar advantage of balance, representing the lives (which is to say deaths) of blacks and whites, enslaved and free, over the broadest temporal spectrum. (See "Extant Historic Inquests for Nineteenth Century South Carolina" (below) for the current status of our digitization and datafication efforts.) In South Carolina all county-level records from the nineteenth century were supposed to have been sent from their county courthouses to the South Carolina Department of Archives and History. A trip to the Kershaw County Courthouse, however, proved that a small number of nineteenth-century records, including a small clutch of coroner's inquisitions, had been missed. Could some of the records from other counties have been similarly overlooked or lost? Absolutely. Coroner's reports can also occasionally be found inter-filed with other relevant court documents in an individual case file, collected by the court as the case proceeded to trial. Are some such inquests still lurking in SCDAH's voluminous indictment files? Almost certainly. From a statistical perspective we can only hope that what we are missing is essentially random, leaving us a representative sample from each of our ten counties.
---
The Virginia Data
The Virginia Sample depends upon our partnership with the Library of Virginia's Virginia Untold: The African American Narrative, which "aims to provide greater accessibility to pre-1865 African American history and genealogy found in the rich primary sources in our holdings." Logically, then, the Virginia data cannot be used to make racial comparisons or say something about Reconstruction—that's not what the project was designed to do. Where the Virginia data is particularly strong, however, is in taking researchers inside the lives (and deaths) of Virginia's antebellum black population, enslaved and free.
---
The Missouri Data
The Missouri data also bears the stamp of its origins in the Missouri Digital Heritage Coroner's Inquest Database, which datafied records for various Missouri counties, the City of St. Louis, and the St. Louis Medical Examiner. This last point is critical. While medical examiners and coroners often perform similar functions, the medical examiner's portfolio is usually broader, encompassing criminal justice, forensics, medical diagnostics, and public health. In practical effect, this means that a medical examiner's office casts off more records of a broader nature. St. Louis was relatively rare in having a city medical examiner in the nineteenth century, which makes the Missouri data particularly fascinating as an early example of a Southern city under the dominion of an M.E. The records are also fantastic for taking us into city life (which is to say city death), amid the fatal bustle of streetcars, steamships, trains, elevators, and early automobiles. Like the other samples, the Missouri data has its weaknesses as well; it was never encoded for enslaved status, for instance, partly because it skews so massively toward the latter end of the century. Given its volume, the Missouri data can easily overwhelm the peculiar features of the other samples.
---
Anatomy of an Inquest
Before treating the sample in the aggregate, we might examine the anatomy of a single inquest file to get a better feel for the information it typically does and does not contain. Virtually every inquest record has at least two documents. The first is a note from the coroner charging a magistrate near the site of the body with the task of rounding up a jury that must appear and meet the coroner at a specified time and place. Typical language would be: "These acts require you immediately on receipt ... hereof to summon and warn verbally or otherwise fourteen men of the said district to be and appear before the ... coroner of said district up the Road leading to the boat yard about the end of York Street at the edge of the town of Camden within the said district between the hours of four & five o'clock this afternoon then and there to enquire upon the view of a body of certain person there lying dead how he came to his death. Fail not herein as you will answer the contrary at your peril."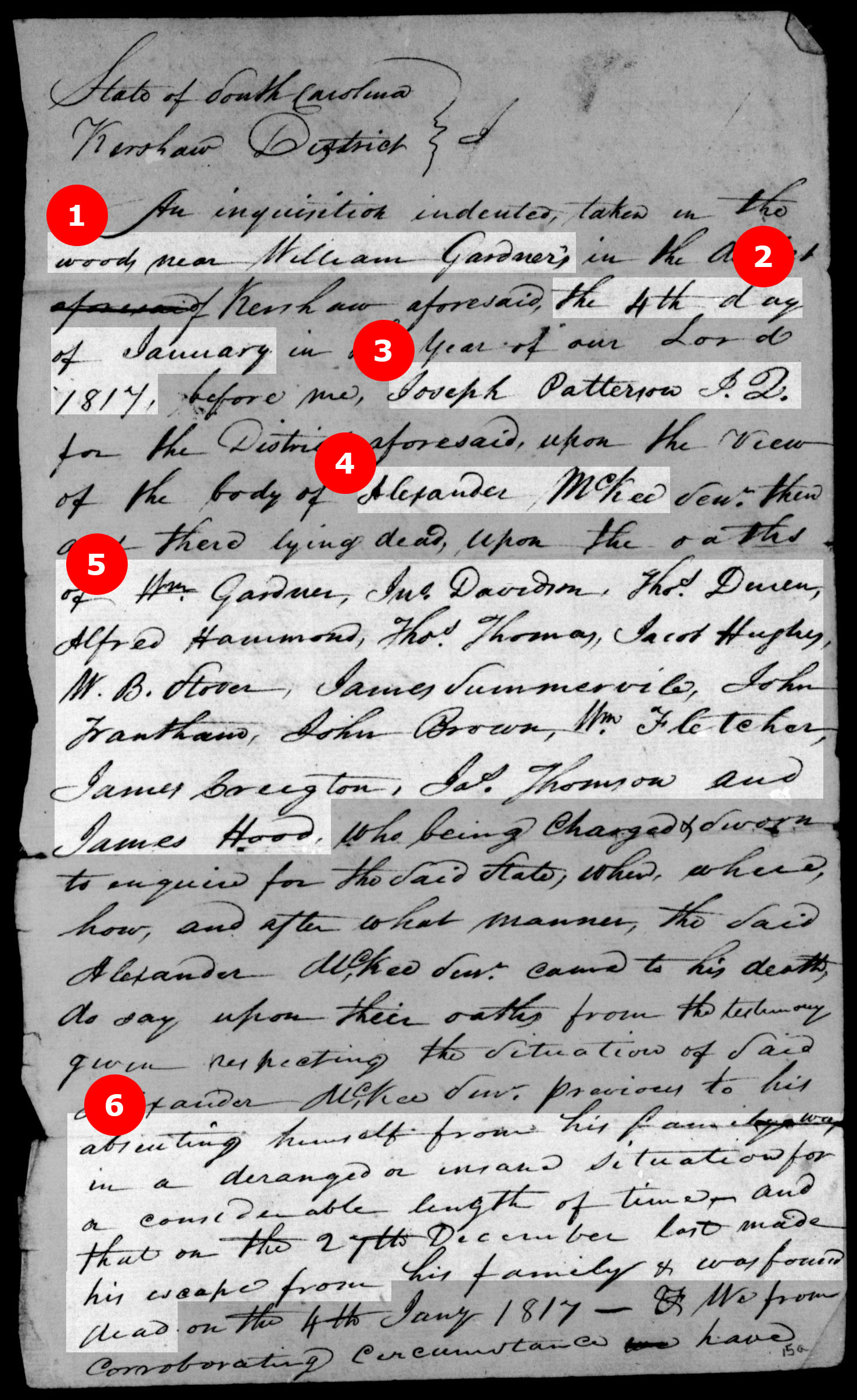 The other standard document in an inquest file is the coroner's "cover sheet," which is similarly formulaic and written in legalese. The typical document records: 1) the place where the inquest was taken; 2) the date; 3) the name of the coroner; 4) the name of the deceased; 5) the names of the jurors; and 6) the finding of the jury, usually preceded by the phrase "do say upon their oaths...." (In the case at left a man considered to be deranged escaped his family's care and died in the woods of neglect or exposure.)
In addition to these two documents, an inquest often includes the testimony of witnesses, usually dictated to the coroner himself, with the witness's signature (or mark) at the bottom swearing to the truthfulness of the statement. Testimony from a physician (what might be called an expert witness) is also typical. It is critical to emphasize that women and slaves could and often did testify at inquests (though they were often barred from participating at any subsequent trial). Their testimony is not documented verbatim, and certainly their words and ideas come to us as distilled and edited by the coroner, but at least we have them. Very occasionally an inquest contains what might be called a 'minority report' in cases where a juror or jurors does not agree with the majority finding.
For most of the nineteenth century, coroner's were expected to keep duplicative records. One (loose) copy of each inquest was expected to be filed with the court and to follow any subsequent legal case through the court system. A second copy was expected to be inscribed into the coroner's inquisition book. Being bound, these are generally preferable, providing greater confidence that the record set is continuous and in tact.
---
Points of Comparison
As it happens, CSI:D's South Carolina counties are predominantly in the piedmont, a region of moderately fertile clay soils that cotton cultivation devastated over the course of the nineteenth century. By comparison to the antebellum South as a whole, these CSI:D counties had relatively high concentrations of slaves. By comparison to South Carolina as a whole, however, these counties had somewhat low concentrations of slaves, with only Edgefield and Kershaw being above average for the state.
Statistical differences between the ten counties are explored in the Counties section. It should be noted at the outset, however, that the counties are more similar than they are different, especially when put into a comparative frame with the (few) other systematic studies of coroners' reports. Sixty-six inquests survive from Plymouth, Massachusetts, for instance, spanning the years 1636 to 1684 (see below). The overwhelming majority (85%) of cases were found to be accidents. In 1661, Jeremiah Burroughs turned over in his "naughty canoo" and drowned. In 1672, John Barnes was gored by a bull, and John Richmond was run over by a cart. But in the almost fifty year span, only two people were found to have committed suicide and two were found to have been murdered, one beaten to death by his master in 1655, and the other killed by unspecified means in 1684.
Another, much larger study of the inquests conducted on Nottingham, England (see below) came to similar conclusions. Between 1828 and 1866, 86% of the deaths were found to be the result of accidents or natural causes. Burning, scalding, and "traffic accidents" accounted for most of the accidental deaths. Homicides were relatively rare, accounting for just 2% of cases.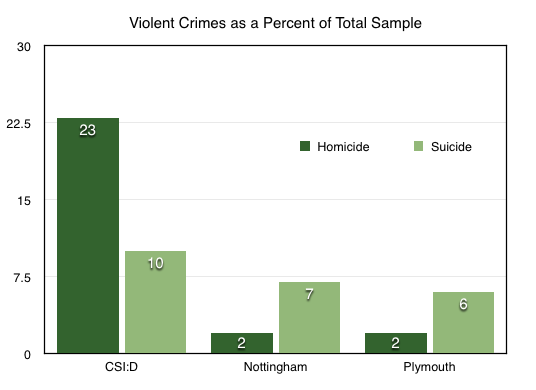 In the CSI:D South Carolina sample, by contrast, homicides were more than ten times more likely. The discrepancy could be explained away, but only partially. Perhaps colonial coroners were less rigorous investigators, finding accidents where there were murders. Maybe Nottingham was the scene of a massive number of homicidal hit-and-runs by horse. But the more obvious conclusion, upheld by all anecdotal evidence, is that South Carolina was simply more violent. Gun-related deaths of any kind were all-but-unknown in Plymouth and Nottingham; in South Carolina men apparently shot themselves and others with an abandon that went well-beyond any conceivable margin of error. There is a danger, though, in presupposing that this simply confirms our notion of the south as an honor-bound region of gratuitous dueling and eye-gouging. There is violence of this kind aplenty, but as Acts lays bare the view from the coroner's office is really much bleaker.
Indeed, what I have learned at a nineteenth-century southern morgue is what I ought to have deduced from the beginning—what a social worker could have told me before I started. In 1860, seventy-five percent of whites belonged to families that owned no slaves; forty percent of whites belonged to families that owned no slaves and no land, qualifying them for the label 'poor white.' Add to these the massive number of African Americans who were held in forced bondage and illiteracy, and our image of the Old South shifts from a land of massive slave fortunes to a land of large-scale rural poverty. Things did not particularly change in the second half of the nineteenth century. The war laid waste millions of acres of farm and forest in the South, destroyed two-thirds of Southern wealth, slaughtered two-fifths of the region's livestock, killed a third of those who had fought and one-quarter of the South's white males of military age. The industries and labor forms that move in after the war—debt peonage, chain gangs, sharecropping, extractive industries, over-production of cash crops steadily sinking in value—ensured that by 1935, Franklin Roosevelt would still call the South "the nation's No. 1 economic problem."
How do people die in such places? The don't die in duels or dandified rituals. They drown because they are not taught to swim. They are beaten to death by underemployed fathers and husbands. They hang themselves in despair or die in suicidal escape attempts. They are malnourished and over-worked and collapse in the field. They die, in short, of the consequences of rural poverty in an exploitative, extractive economy.
NEXT: Data Visualizations
---
South Carolina Inquests in CSI:D Sample by County and Decade
| County / Decade | 1800s | 1810s | 1820s | 1830s | 1840s | 1850s | 1860s | 1870s | 1880s | 1890s | other | TOTAL |
| --- | --- | --- | --- | --- | --- | --- | --- | --- | --- | --- | --- | --- |
| Anderson | 0 | 0 | 0 | 8 | 14 | 26 | 31 | 48 | 22 | 0 | 4 | 152 |
| Chesterfield | 0 | 0 | 0 | 0 | 0 | 0 | 7 | 40 | 60 | 93 | 309 | 528 |
| Edgefield | 0 | 0 | 1 | 1 | 63 | 102 | 97 | 25 | 41 | 185 | 9 | 515 |
| Fairfield | 0 | 0 | 0 | 8 | 14 | 26 | 31 | 48 | 22 | 0 | 4 | 292 |
| Greenville | 0 | 0 | 1 | 0 | 1 | 30 | 24 | 41 | 42 | 0 | 1 | 141 |
| Horry | 0 | 0 | 0 | 0 | 1 | 19 | 16 | 6 | 0 | 0 | 0 | 42 |
| Kershaw | 7 | 17 | 39 | 33 | 44 | 31 | 40 | 13 | 1 | 4 | 4 | 262 |
| Laurens | 15 | 23 | 20 | 30 | 15 | 33 | 35 | 39 | 55 | 84 | 0 | 350 |
| Spartanburg | 3 | 8 | 14 | 26 | 35 | 29 | 31 | 53 | 118 | 0 | 1 | 326 |
| Union | 3 | 19 | 28 | 41 | 54 | 41 | 25 | 0 | 0 | 0 | 9 | 216 |
---
Nottingham Inquests
| Death Type | # of Cases | Explanation | Category |
| --- | --- | --- | --- |
| abortion | 8 | died as a result of attempts to terminate a pregnancy | abortion |
| animal accident | 61 | died when a horse, cow, bull, ram or dog was involved | accident |
| balloon accident | 1 | died due to the falling of a balloon | accident |
| burnt or scalded | 534 | died from accidental burns or scalds | accident |
| cart accident | 195 | killed on the road, usually run over | accident |
| child-birth | 21 | mother or child died at the time of child-birth | child-birth |
| choking | 18 | accidentally died from choking, usually on food | accident |
| coach accident | 3 | run over by a stage coach | accident |
| coal-mine accident | 197 | died at a coal-mine, usually from a roof fall or an explosion | accident |
| drowned | 354 | accidentally drowned or found drowned in a river, canal, etc. | accident |
| exposure | 37 | died from exposure to the weather or lack of care and attention | accident |
| fever | 25 | died from an infectious disease, e.g. cholera, typhus, etc. | natural causes |
| field accident | 41 | died in a field or in the street, including struck by lightning | accident |
| fighting | 7 | accidentally died in a fight | fighting |
| found dead | 38 | no explanation for how death occurred | unknown |
| gangrene or tetanus | 5 | died from the effects of gangrene or tetanus (lock-jaw) | natural causes |
| haemorrhage | 9 | died from loss of blood | natural causes |
| hanging | 2 | accidentally hung themselves | accident |
| home/public house | 65 | died at home or in a public house, usually falling down stairs | accident |
| homicide | 2 | accidental or justifiable homicide | homicide |
| inflammation | 6 | died as a result of inflame tissues | natural causes |
| intoxication | 37 | died where intoxication was the primary cause | accident |
| manslaughter | 35 | died as a result of another person's activity as pronounced by the coroner--a trial would follow at the Nottingham Assizes | homicide |
| miscarried | 5 | died as a result of a miscarriage | child-birth |
| miscellaneous | 6 | died from eating to excess, over-exertion or by fright, etc. | miscellaneous |
| murder, known | 23 | killed by a person present at the inquest--a trial would follow at the Nottingham Assizes | homicide |
| murder, unknown | 21 | died as a result of an unknown person or person's activity | homicide |
| natural | 1898 | died from natural causes | natural causes |
| opiates | 146 | accidentally died from an overdose of a medicine containing opium | accident |
| play accident | 17 | children who died whilst at play | accident |
| poison | 26 | died after accidentally taking or being given a poisonous substance | accident |
| quarry accident | 8 | died in a quarry usually from a fall of stone or earth | accident |
| railway accident | 55 | killed on a railway | accident |
| shooting or stabbing | 19 | accidentally killed by a gun, bow & arrow, or a knife | accident |
| smothered | 72 | died from being accidentally smothered or suffocated | accident |
| stillbirth | 31 | born dead | child-birth |
| suicide or fel-de-se | 323 | by hanging, drowning, shooting, jumping or taking poison | suicide |
| trampled | 1 | died as a result of being accidentally crushed in a crowd | accident |
| well accident | 19 | died in a well | accident |
| windmill accident | 11 | killed at a windmill, usually struck by a sail | accident |
| workplace accident | 83 | died in a workplace other than a coal-mine, quarry or railway | accident |
Credit: Bernard V. Heathcote, Viewing the Lifeless Body: A Coroner and His Inquests Held in Nottinghamshire Public Houses During the Nineteenth Century, 1828 to 1866 (Nottingham: Technical Print Services Limited, 2006), p. 24
---
Plymouth Inquests
| Name | Year | Gender | Primary Cause | Secondary Cause |
| --- | --- | --- | --- | --- |
| John Deacon | 1636 | M | exposure |   |
| John England | 1638 | M | drown |   |
| Thomas Cooke | 1650 | M | drown |   |
| John Slocume | 1651 | M | exposure | wolves |
| William England | 1651 | M | drown |   |
| Robert Wille | 1652 | M | drown | drunk |
| James Glasse | 1652 | M | drown | in boat during storm |
| John Barker | 1652 | M | drown |   |
| John Browning | 1652 | M | drown |   |
| Thomas Bradly | 1653 | M | seizure? |   |
| Henery Draiton | 1654 | M | exposure |   |
| John Walker | 1655 | M | beaten by master |   |
| Thankfull Pakes | 1655 | F | drown in well |   |
| Richard Man | 1656 | M | drown | fall through ice |
| Titus Waymouth | 1656 | M | alcohol | constipation |
| John Phillipes | 1658 | M | lightning |   |
| Nathaneel West | 1659 | M | drown | fall through ice |
| an englishman | 1659 | M | drown |   |
| Mary Chase | 1659 | F | natural causes |   |
| James Peirse | 1660 | M | lightning |   |
| Jeremiah Burroughs | 1661 | M | drown | "naughty cannoo" |
| William Day | 1661 | M | suicide |   |
| Robert Allin | ? | ? | ? |   |
| John Bard | 1661 | M | run over by cart |   |
| Thiston Clark Sr. | 1662 | M | drown | fall through ice |
| Robert Allin | 1662 | M | suicide |   |
| James Wyatt | 1664 | M | natural causes |   |
| Rebeckah Sale | 1664 | F | suicide |   |
| Elizabeth Walker | 1664 | F | drown |   |
| Mary Totman | 1666 | F | poison | accident |
| Daniell Dones | 1667 | M | drown |   |
| Nicholas Nicarson | 1667 | M | choking |   |
| Timothy Poole | 1667 | M | drown |   |
| Robert Chapell | 1667 | M | exposure | alcohol |
| James Nicolls | 1667 | M | exposure | alcohol |
| William Pidell | 1667 | M | exposure | previous sickness |
| a child | 1668 | M | exposure |   |
| an indian | 1668 | M | fall |   |
| Isacke Robinson | 1668 | M | drown |   |
| John Paybody | 1669 | M | tree |   |
| John Barnes | 1672 | M | bull goring |   |
| daughter of Lake | 1672 | F | drown |   |
| Peter Trebey | 1672 | M | drown |   |
| John Richmond Jr. | 1672 | M | run over by cart |   |
| Experience Leichfeld | 1673 | M | tripped | head crushed by log |
| daughter of Phelpps | 1673 | F | drown |   |
| wife of Tayler | 1673 | F | drown |   |
| John Fallowell | 1675 | M | drown | suicide |
| Bethyah Howland Jr. | 1677 | F | drown | suicide |
| Micaell Walker | 1677 | M | drown | saw mill |
| Joseph Ellis | 1676 | M | drown |   |
| John Rose | 1677 | M | exposure |   |
| Robinson | 1667 | M | tree |   |
| John Merritt | 1667 | M | fall |   |
| child of Batson | 1678 | ? | ? |   |
| Thomas Totman | 1678 | M | fasting |   |
| Samuell Drew | 1678 | M | drown | drunk |
| Thomas Lucase | 1679 | M | fall |   |
| James Colbey | 1679 | M | drown |   |
| child of Hatches | 1680 | ? | suffocated |   |
| John During | 1680 | M | natural causes |   |
| William Makepeace | 1681 | M | drown |   |
| George May | 1681 | M | drown |   |
| Timothy Venor | 1681 | M | drown |   |
| Daniell Standlake | 1684 | M | killed | Robert Trayes |
| John Miller | 1684 | M | suicide |   |
Credit: Jeff Norcross, The Plymouth Colony Archive Project
---
Sample of African American Inquests from the Library of Virginia
Name
Date
Status
Cause of Death
Details
Descriptor
Unidentified
November, 1728
drowning
Drowned
Thomas Savage
June, 1729
drowning
Drowned in Cowpen Creek
Cato
August 13, 1759
slave
homicide
Nan by force of arms did assault Cato with a knife. She gave Cato a mortal wound in the left breast, from which Cato instantly died.
Unidentified
February 23, 1774
unknown
drowning
Accidental drowning
Kendall
May 2, 1774
slave
accidental injuries
Lost his life by accident.
Daniel
December 28, 1777
slave
accidental injuries
Died when he fell from a horse and was dragged half a mile due to the rope halter being tyed around his left art
Fellow
October 27, 1779
slave
unknown
Unknown
George Innis
November 14, 1780
free
natural causes
Died by the visitation of God in a natural way
Jacob
May 25, 1782
slave
natural causes
Died by the visitation of God in a natural way.
Polydore
December 8, 1782
slave
homicide
Death was occasioned by Abram Lockett and John Claybrooks beating him with a large stick and other ill usage.
Davey
April 27, 1784
slave
natural causes
Died by the visitation of God in a natural way.
Bob
November 5, 1785
slave
injuries
Blow given to him half inch above his right eye, another blow near his right ear and many stripes on his body, by whom given unknown.
Jeny
February 10, 1786
slave
injuries
Died from the whipping given her by William Tuggle.
Major
March 23, 1786
slave
accidental injuries, homicide
Died by the explosion of a gun held by James Hubbard.
Unidentified
August 12, 1786
slave
unknown
unknown
Marklin
August 16, 1786
slave
homicide
Shot by Simeon Walton Jr of Nottoway County
Dick
December 17, 1786
slave
accidental injuries
Death by accident in a scuffle with one of his fellow servants.
Ben
July 7, 1787
slave
drowning
Drowned by accident in the Little Nottoway.
Charles Sprouse
August 11, 1787
homicide
Murdered by John Forsiei.
unknown
February 15, 1788
slave
accidental injuries
Killed by a tree falling.
Emanuel
July 12, 1788
slave
drowning
Drowned in Allans Creek.
Joe
November 3, 1788
slave
natural causes
Died by the visitation of God in a natural way.
Unidentified
May, 1789
unknown
unknown, drowning
Cause of death is unknown, the body being so putrified a state, but supposed him to have been accidentally drowned.
Dudder
August 27, 1789
slave
homicide
Died from wound received in a fist fight
Gelbert
October 21, 1790
slave
accidental injuries
Died when a tree accidentally fell on him
Dick
April 10, 1791
slave
homicide
Murdered by Nathan Anderson by blow to the head with stick.
Moses
April 19, 1792
slave
natural causes
Died by the visitation of God in a natural way.
Jim
January 10, 1793
slave
natural causes
Died by the visitation of God in a natural way.
Daphney
June 9, 1793
slave
accidental injuries
Died after being forced to eat tobacco and other treatment at the hands of slaves Patty and Abraham
Frank
June 25, 1793
slave
homicide
Assaulted by force and armes with whips, and was given too many strokes of the whip by Robert Self, causing Frank's death
Joe
July 25, 1793
slave
natural causes
Death by an Act of Providence.
Mourning
September 12, 1793
slave
homicide
John B Pittman used sticks or switches to beat and wound Mourning, which caused her death.
Tom
November 28, 1793
slave
homicide, accidental injuries
Killed by a gun fired from the hand of Peter Jones; it was an accident.
Joan
December 18, 1793
slave
suicide
Died by strangling or hanging herself with a small cord or rope.
Lewis
December 26, 1793
slave
natural causes
Death by an Act of Providence.
Unidentified
Undated, 1793
slave
drowning
Drowned.
Phil
September 1, 1795
slave
homicide
An unknown person using a certain weapon struck Phil on the right side of the head and right breast which resulted in a mortal wound.
Dilce
March 8, 1796
slave
homicide
Died from a broken neck committed by a person unknown
Humphrey
August 3, 1796
slave
natural causes
Died by an Act of God.
Will
Undated, 1796
slave
homocide
came to his death be being beaten with a cowhide and fence rail
negro
Charles
January 17, 1797
slave
homicide
Death was probably occasioned by a blow on the forehead--also found several burns on his face, arms, breast, knees, and legs, also a few slight marks on his back which appear to be occasioned by a switch, the body of the above named Charles we found in the plantation of ...James Wade Jr laying on a plank near on open grave.
David
May, 1797
slave
unknown, homicide
Cause of death not shown, but possibly murdered.
Holland
November, 1797
slave
unknown, homicide
Cause of death not shown, but possibly murdered.
Unidentified
April 28, 1798
homicide
A person unknown did kill and murder the unknown mulatto by shooting from a gun or pistol a large number of shot into the back of the said unknown mulatto.
mulatto
James
July, 1798
slave
homicide
Death was occasioned from violent blows particularly with one blow to the back of the head.
Dick
January, 1799
slave
homicide
A certain person unknown did kill and murder Dick.
Unidentified
April, 1799
unknown
homicide
Died from being murdered by an unknown person.
Unidentified
September 17, 1799
Infanticide
A certain person unknown did kill and murder the infant daughter of Mary Sadler by mashing the skull in the back of the head.
Joshua Butt
October, 1799
homicide
Throat was cut from ear to ear by his just purchased slaves while traveling on the main road.
Harris Spears
October, 1799
homicide
Throat was cut from ear to ear by his just purchased slaves while traveling on the main road.
Robbin
July 20, 1800
slave
drowning, accidental injuries
Was accidentally drowned in a river commonly called Appomattox
Obedience Creasey
July 28, 1800
homicide, drowning
Believed to have been forcibly drowned by Tom, a slave.
Joe Gooding
December, 1800
free
homicide
Shot with a gun willfully, deliberately and premeditably, while lying asleep.
Dan
July 13, 1801
slave
homicide
Jury believes that the slave Manuel did kill and knock in the head the said Phill.
Peter
September, 1801
slave
drowning
Being alone at the mill pond voluntarily and feloniously drowned himself.
Yender
November 24, 1801
homicide
Murdered by repeated strokes to the head supposedly inflicted by two mulatto persons namely William Weller Taylor and George Weller Taylor
Roose
January 6, 1802
slave
injuries
Death by severe beating by Edmund King, not having God before his eyes but by being moved and seduced by the instigation of the devil.
Judy
January 10, 1802
slave
homicide
Was killed by--Cowey, --Cowey did--struck and gave Ellick a mortal wound, of which he died.
person of color
Will
February 8, 1802
slave
homicide
Was murdered by some person unknown.
Lewes
June 18, 1802
slave
homicide
Supposed to have been shot, but body was in such a state of putrification that jury could not proceed.
Unidentified
July 5, 1802
free
accidental injuries
Accidentally died moments after birth
Sarah
September, 1802
slave
suicide
Alone in a kitchen with certain leather strings which she put around her neck, tied the same so tight--as to suffocate herself and cause her own death.
Harry
September, 1802
slave
unknown
Cause of death is unknown.
Edward Fitzpatrick
November 21, 1802
homicide
Death by mortal wound to the head.
Moll
December 13, 1802
slave
injuries
The abuse heretofore received was the cause of her death, but by whom we cannot assertain.
Aberdeen
March 7, 1803
slave
accidental injuries
Died from wounds received to both legs when a gun accidentally discharged
Dafney
June 9, 1803
unknown
natural causes
Died by the visitation of God in a natural way.
Milley
June 9, 1803
slave
exposure
Death was occasioned by exposure to intense cold while run away on that day, and reexposure again before she had recovered from the effect of the first impression.
Peter
March 27, 1804
slave
drowning
Falling through ice on river and drowning
King
April 1, 1804
slave
homicide
Assault with a black oak club and blows to his head and temples by unknown person.
Richardson
May 30, 1804
free
alcohol, drowning
Intoxicated and drowning
black
Arthur Stewart
June 30, 1804
free
accidental injuries, drowning
Crushed between boat and wharf and drowned
black
Bristol
July 30, 1804
slave
homicide
Had an affray with Ross Richardson in which he received several blows about the lower part of his belly and upon his privates which might have occasioned his death but the matter is doubtful and he was much intoxicated at the time.
Richard
August 24, 1804
free
alcohol, natural causes
Natural death, causes unknown but known to be addicted to liquor
black
Amey
November 8, 1804
slave
natural causes
Died of a natural death.
Margaret
November 22, 1804
slave
natural causes
Died of the infirmities of old age
Jack Robinson
January 2, 1805
slave
alcohol, exposure
Died naturally by freezing to death in a field where he had stopped, being overcome with drink and from the severity and inclemency of the weather
John
January 27, 1805
slave
alcohol, exposure
Died naturally, caused by drinking too much liquor and was overcome thereby, and by the inclemency of the night
Ceasar
January 31, 1805
accidental injuries
Died from an accidental wound on his left leg by the striking of a stump while riding in a wagon
Unidentified
April 11, 1805
slave
infanticide
Infant was buried just under the ground with its face downwards; it appears that the infant was smothered to death with dirt, having been buried by its mother Milley, who confessed to the child's death.
Peter
April 18, 1805
slave
homicide
"Stabbed in the stomach with a knife by Isham, a slaved owned by Emanuel Wills after a game of "five coins"
Unidentified
June 4, 1805
slave
natural causes
Was born dead, having been delivered several months previous to the usual time of delivery.
Unidentified
June 30, 1805
drowning
Drowned accidentally while crossing the river
Unidentified
August 3, 1805
slave
natural causes
Stillborn
Ellick
October 14, 1805
slave
homicide
Was shot and killed by Colonel Richard Kennon's business manager John Clark, because large shot was in Clark's gun instead of drop shot. Emanuel ran off when he was attempted to be taken hold of. --Clark ought to be aquited and exonerated.
Rose
October 17, 1805
slave
homicide
Died from the cruel treatment by Sarah Tucker, wife of William Tucker, from beating and administering medicene improperly and maliciously with an intent to destroy said Rose
Aron
October 24, 1805
slave
drowning
Accidentally and by misfortune got drowned.
Charles
December 19, 1805
accidental injuries
Compound fracture in right leg
Old Simmon
February 16, 1806
unknown
drowning
by the will of the almighty God had lost the principal force of his eye being on his way to his brothers from the mill and drowned
black
Julius
March 30, 1806
slave
intoxication; drowning
being in a state of intoxication and in attempting to cross the Rivanna river in a batteux being then and there alone fell out of said batteux by accident and was then and there casually drowned
negro
Charles
April 21, 1806
slave
natural causes
Died of a natural death.
Nanny
April 21, 1806
slave
homicide
Killed by Fras. Houchins, Polly Houchins, and Sally Houchins with a stick or sword to the head.
Bob
July 14, 1806
slave
homicide
Was murdered by the slave Hal, property of David Walker of Mecklenburg County. Said Hal confessed to the murder.
Amey
September 25, 1806
slave
homicide, drowning
A negro woman named Molley the property of Peter Johnson did feloniously murder the aforesaid Amey by drowning, suffocating or otherwise.
Peter
October 13, 1806
slave
drowning
While attempting to cross the middle of Blue Stone Creek at Susanna Burtons Mill, she fell into the mill pond and drowned.
Unidentified
November 13, 1806
slave
infanticide
Died from want of proper attention at the time of its delivery and also from want of proper assistance through the neglect of Sarah, its mother.
Arthur
November 30, 1806
slave
homicide
stabbed to the forehead by a spade
Fillis
January 10, 1807
slave
natural causes
Found dead; died by the visitation of God in a natural way.
Tom
April 4, 1807
slave
suicide, drowning
The said Tom not having God before his eyes but being seduced and moved by the instigation of the devil, at the bank of the Appomattox River--then and there being alone in the said river himself voluntarily and feloniously drowned.
Billy Still
April 17, 1807
slave
inconclusive
Unknown causes
Cuatia
May 11, 1807
unknown
drowning
drowned
black
Unidentified
May 17, 1807
unknown
natural causes
Died of a visitation of God in a natural way.
Nathan
May 29, 1807
slave
accidental injuries
Death by a hurt he got from a seat bench of a lighter at the draw bridge of the southern branch of Elizabeth River.
Unidentified
July 6, 1807
drowning
Accidental drowning
black
George Butler
July 24, 1807
drowning
Drowning
black
Unidentified
August 17, 1807
inconclusive
Cause of death unknown due to the state of the body
person of color
Jane Murrey
August 18, 1807
slave
suicide
Suicide by drowning
black
Patt
August, 1807
slave
unknown
Cause of death is unknown: she was found dead with no marks of violence appearing on her body.
Bob
November 8, 1807
slave
alcohol, drowning
Intoxicated and strangled in a gully full of water
Derny
November 18, 1807
unknown
exposure
being far advanced in old age and letting down to rest himself and the weather being very cold chilled him so that he died before any relief came to him
black
Unidentified
January 21, 1808
slave
Infanticide
Hannah, mother of the newly delivered child, strangled the baby and broke its neck. She then concealed the body in some brush.
Henny
January 24, 1808
slave
suicide
Suicide by hanging
James
April 20, 1808
slave
accidental injuries
Burned to death from his clothing catching fire, when he made a fire near the side of the road by which to lye
Bob
June 7, 1808
slave
natural causes
Died a natural death.
William Whittenton
August 25, 1808
homicide
Killed by being struck in the head and stomach with a club by slave Flora, the property of Nathaniel Jackson
Bob
September, 1808
slave
unknown, injuries
Cause of death cannot be discovered, but we are of the opinion from the limberness of her neck that it is broke, but by whom we cannot say.
Jacob
December, 1808
free
suicide
Hung himself with a cord around his neck, and tied to a joist.
Isaac
January 11, 1809
slave
drowning
drowned by falling in the creek
black
Cloe
March 10, 1809
slave
accidental injuries
Death by an accident in an affray with a negroe woman named Clarisa.
Alexander
June 3, 1809
slave
homicide
Death by blow to the side of the head with a board inflicted by John Thompson, who against his will and therefore casually and by misfortune did kill
Unidentified
June 28, 1809
slave
infanticide
Mother Patty, struck the child's skull with a stone and did break and pierce so as to occasion its death
Vainey
July, 1809
slave
homicide
Was shot by some unknown person.
Peter
August 10, 1809
slave
accidental injuries, natural causes
Came to his death by his own imprudent act by falling on his head upon a rock, as he was walking down a decent; or by the visitation of God by his having a fit.
Joe Jackson
November 13, 1809
slave
alcohol, drowning
Intoxication and drowning
Peg
February 24, 1810
slave
natural causes
died by the visitation of God in a natural way
Sam
April 3, 1810
slave
homicide
Some unknown person murdered the said Sam by sundry blows upon his head which we suppose were the cause of his death.
Marsha
May 7, 1810
homicide
Was killed and murdered by an unknown person
Unidentified Pope
May, 1810
homicide
Feloniously murdered by choking to death, by his own mother, Marion Pope, wife of John Pope.
mulatto
Joe
September 30, 1810
slave
homicide
Died from a mortal blow received about the body by the overseer in self defense
David Gray
October 25, 1810
free
natural causes
Died by a visitation of God in a natural way
person of color
Cloe
October 28, 1810
slave
natural causes
Died by the visitation of God in a natural way.
Phill
November 2, 1810
slave
homicide
James Campbell -- did feloniously and with malice aforethought by excessive driving cause the death of the slave Dan, who suddenly died upon his arrival at this place.
George George
February 9, 1811
free
natural causes
was going across or in a creek called Wallops Creek in search of some game that he--had just before killed and by the act of providence was attacked with a fit which fit we believe was the occasion of his death
black
Ned
February 23, 1811
slave
natural causes
died by the visitation of God in a natural way
Unidentified
March 25, 1811
drowning
Accidental drowning
black
Jacob
April 12, 1811
slave
drowning; alcohol
accidentally drowned while drunk
black
Peggy Berry
April 13, 1811
free
natural causes
fainted or was seized or taken with some kind of fit which we suppose was the occasion of her death
black
John Holt
June 20, 1811
free
alcohol, drowning
Intoxication and accidental drowning
person of color
Unidentified
September 9, 1811
slave
unknown
There is no testamoney to the jury on how or in what manner the infant came to its death, or was born alive.
Eliza
September 14, 1811
slave
drowning
Accidental drowning after running away
Daniel
September 19, 1811
slave
accidental injuries
Died from a fall off of a horse
John Gibbon
February 10, 1812
homicide
died from being choked and strangled at the hands of George, a black man slave
Peter
February 25, 1812
slave
homicide
Death by a blow to the head with a stick resulting from an altercation with slave Jack owned by William Taylor
Jeff
April 3, 1812
slave
suicide
killed himself by using a bridle to hang himself by the neck from an oak tree
Guy
April 5, 1812
unknown
exposure
was attempting to cross the Pocomoke River and by the badness of the weather and the severity of the cold that he got numbed in such a manner that he became helpless--was frozen and died
black
Unidentified
April 7, 1812
inconclusive
Cause of death unknown due to the putrification of the body
Jain
April 19, 1812
slave
drowning
Drowned.
Jane Banks
May 11, 1812
free
alcohol, drowning
Intoxication and accidental drowning
black
Phill
May 27, 1812
slave
natural causes
Death by visitation of God.
Lucy
June 8, 1812
slave
homicide
In protest of original ruling, upon mature deliberation of our inquiry we are of opinion that we have made an improper return and are now induced to believe that the abuse which the said Lucy received was the means of her death.
Tilbury
June 9, 1812
drowning
Accidental drowning
black
George
June 9, 1812
drowning
Drowning
black
Unidentified
June 27, 1812
free
drowning
Accidental drowning
black
Brutus
June, 1812
slave
suicide
Suicide by hanging
Jack
July 7, 1812
slave
homicide
Jack assaulted an unknown person who then shot him in the back with a gun
Edward Teague
July 9, 1812
free
drowning; alcohol
was drunken or so much intoxicated in spiritous liquors that he had not his reason--he was going down Jenkins Creek in a lighter loaded with corn--without any cause as we understand he jumped overboard and was drowned
black
James
July 27, 1812
slave
homicide
killed by Allen, a black slave, by the striking of James' head with an iron hoe
Solomon
August 4, 1812
slave
inconclusive
Jury was unable to locate the body
Will
August 4, 1812
slave
drowning
Died by accidental drowning
Dalpney
August 5, 1812
slave
natural causes
Died by the visitation of God in a natural way
George
August 18, 1812
unknown
drowning
was trying or attempting to cross a cut or a small prong that makes out of Back Creek and not being able to get over it or got in to some hole out of his depth and so was drowned
black
Charles
September 10, 1812
slave
suicide
Voluntarily and feloniously with malice aforethought did kill, strangle and murder himself, by putting a grape vine around his neck and the other end of the vine tied about a dogwood tree limb.
Wilkes
October 8, 1812
drowning
Accidental drowning
black
Jenny
November 1, 1812
slave
homicide
died from blows received in a whipping administered feloniously by Benjamin Taylor
Gold
November 12, 1812
slave
homicide
Died from a gun shot wound upon the left thigh, fired by the hands of some person unknown.
Anaka
November 16, 1812
natural causes
Died by the visitation of God, in a natural way, and not otherwise.
Robin Scott
December 16, 1812
free
natural causes
Died by the visitation of God in a natural way
free person of color
Ellick
February 25, 1813
slave
exposure
died by the visitation of God in a natural way, by freezing to death
Darcus
February 26, 1813
slave
drowning
Accidental drowning
Phill
March 2, 1813
slave
homicide
killed by the sticking, stabbing, wounding, thrusting and penetrating with a knife in the belly. Knife was in the hands of slave Rose.
Sam
March 18, 1813
unknown
homicide
A certain person unknown, did kill and murder the said Sam.
Charles
April 3, 1813
slave
drowning
Accidental drowning due to sloop capsizing
black
Charly
April 20, 1813
slave
homicide
Died from being shot with a musket ball through the right shoulder by John Cuffery (free black).
Jordan
April 21, 1813
slave
homicide
Died from wounds inflicted upon his back from whippings or beatings
Ellick
May 13, 1813
slave
natural causes
Died by the visitation of God in a natural way.
Amos
May 16, 1813
slave
homicide
Struck in the head with a stone in the hands of Simeon Robertson.
Mirrus
May 17, 1813
slave
natural causes
Died by the visitation of God, in a natural way, and not otherwise.
Edmund
May 19, 1813
slave
drowning
came to his death by being drowned in a creek
black
Bob
June 8, 1813
slave
homicide
Isam a negroe man slave the property of Josiah Perkinson--not having God before his eyes but being moved and seduced by the instigation of the devil, struck Bob on the head with a stick and inflicted a mortal wound.
Minga
July, 1813
slave
homicide
Shot to death by Spratly Holt.
Unidentified Vines
November, 1813
free
homicide, infanticide
Choked to death at the hands of its mother, Milly Vines.
Amey Adams
December 8, 1813
homicide
Feloniously killed and murdered by boy slave named Matt, property of John A Anthony.
Dubling
January 11, 1814
slave
exposure
died of cold and not otherwise
black
Tom
January 14, 1814
slave
homicide
Must have been murdered by some unknown person from number of blows on his face, and his neck entirely broken from the stroke of some unlawful weapon.
Unidentified
January 17, 1814
slave
alcohol, exposure
Died from drinking an over quantity of spiritous liquor and he froze to death.
Frances
February 15, 1814
slave
natural causes
died by the visitation of God and in a natural way
Nancy
March 24, 1814
homicide
Assaulted by Samuel Farley with weapons unknown in and upon her head and body. She died from these wounds.
John Smith
April 14, 1814
homicide
Died from a broken skull from an assault by Tom, his slave, with a grubbing hoe.
Revel George
May 20, 1814
free
drowning
was on board a small canoe with two other men in Folly Creek--turned over whereby the said Revel George was drowned by accident
black
Unidentified
July 29, 1814
natural causes
Stillborn
Sally Whitehurst
August 23, 1814
accidental injuries, drowning
Death was accidental by an Act of God, drowned after gust of wind upset boat.
mulatto
Unidentified
August, 1814
unknown
natural causes
Died by the visitation of God in a natural way.
Bob
September 5, 1814
slave
exposure
Died from fatigue by traveling in the heat of the day and by drinking water being at the same time over heated
Mich
September 8, 1814
drowning
Accidentally drowned when he fell from his boat into the James River
Bob
September 22, 1814
slave
homicide
Lewis Clark with a gun made of iron and steel--loaded with gun powder and lead did shoot in the right side of his belly of the said negro Bob.
Unidentified
October 3, 1814
drowning
Died by the visitation of God, by accidental drowning
Unidentified
October 6, 1814
drowning
Accidental drowning
black
Abby
November 18, 1814
slave
injuries
The abuse heretofore received was the cause of her death, but by whom we cannot assertain.
Samuel Dover
November 19, 1814
alcohol, exposure
Drunkenness and exposure to inclemency of the weather
person of color
Billy
December 21, 1814
slave
drowning
Drowned in attempting to cross Blue Stone Creek.
Unidentified
January 5, 1815
slave
exposure
Frozen to death in a stockyard
black
Tom
January 18, 1815
slave
homicide
Death was facilitated and happened sooner in consequence of being beaten with a cow hide by James Satterwhite
Onisimmious
February, 1815
slave
homicide
Died from gun shot wound to the back inflictd by Typpe L Charles.
Charles
March 10, 1815
slave
natural causes
died by the visitation of God and not otherwise
black
Unidentified
March 19, 1815
unknown
drowning
voluntarily and feloniously drowned
black
Agga
March, 1815
unknown
unknown
Died an unnatural death, but by what means we cannot say since she has been dead two or three weeks.
Harry
April 3, 1815
homicide
Shot in the back and killed by a gun shot in the hands of Archebard Johnston
Unidentified
June 16, 1815
free
homicide
Being delivered thereof and bruises apparent on it, was willfully and feloniously murdered.
Lewis Cousins
June 18, 1815
unknown
injuries
Died from a severe whipping and beating that he received.
person of color
Tom
June 20, 1815
slave
homicide
Frances Powell then and there with switches or a cowhide did wound and beat the aforesaid negro man Tom and of such wounds and beating the aforesaid negro man Tom died.
Aaron
September 18, 1815
slave
homicide
Stabbed by his wife Betty, after beating her. Witnesses state she had previously sworn that if Aaron ever laid a hand on her she would kill him.
Dick
September, 1815
slave
homicide
came to his death by violent and unlawful means--beaten, cut, bruised in an unlawful and unmerciful manner--the said Sterling Harwell striked, beat, and abuse the said Dick on and about the head--so that Dick came to his death in consequence of the said wounds, blows, stripes, and bruises.
Isaac
October 1, 1815
free
drowning
was drowned in the creek
black
David Scott
October 30, 1815
free
homicide
Shot by a gun by either Stephen Baranzzino or Johnathan Piercy
person of color
Rhody Lawrence
November 10, 1815
free
homicide
Violence committed on her body by Joseph Bird
person of color
Henry
December 20, 1815
slave
natural causes
Died by the visitation of God in a natural way.
Natt Herring
January 3, 1816
free
homicide
Joe, a slave of Allen Fulgham, struck Herring on the neck with a stick
Jack
January 6, 1816
slave
natural caues
Died by the visitation of God.
Billy Perry
January 15, 1816
free
exposure
Froze to death.
Hardy
January 25, 1816
slave
homicide
Whipped, beat, and bruised by paddel in the hands of Asa Craddock.
Will
January 25, 1816
slave
natural causes
Died by the visitation of God.
Tom
February 8, 1816
slave
natural causes
Died by the visitation of God in a natural way, while being committed to jail for a felony.
Egyp
March 3, 1816
slave
natural causes
died by the hand of providence
black
Robin
March 26, 1816
free
natural causes
died by the visitation of God
black
Jerome
March 29, 1816
slave
drowning
voluntarily and feloniously drowned
black
Sarah
April 24, 1816
slave
homicide
Died from two whippings given her by Stephen Redman.
Ben
June, 1816
slave
natural causes
Died by the visitation of God in a natural way.
Wilson
August 21, 1816
slave
homicide
Killed by a fractured skull inflicted by Bob, a slave and property of William Stratton
Tom
September 26, 1816
slave
natural causes
Died by the visitation of God.
Harrison
October, 1816
slave
suicide
Suicide by hanging
Goshen Watson
December 7, 1816
free
homicide
killed by gun shot to the back of the head by William Goodrich
person of color
Billy
December 13, 1816
free
exposure, alcohol
Died from exceedingly cold weather due to his state of intoxication
Daniel
January 15, 1817
slave
drowning
Drowned in Mecraws creek
Moses
May 8, 1817
slave
homicide
James Andrews, age 10 or 11, casually and by misfortune did kill and slay the negro boy Moses by discharge of gunpowder and shot in upon the throat of the said negro.
Jim
May, 1817
slave
alcohol, drowning
Died while attempting to ride across Seacock Swamp, being intoxicated did fall into said swamp and drowned.
Andrew
June 25, 1817
slave
homicide
Murdered by whipping and abuse committed by Pleasants Clarke.
Unidentified
June 25, 1817
slave
unknown
Unable to determine that the said child ws murdered. There was no appearance of violence on the body.
John S Pennington
August 31, 1817
homicide
murdered with a shot gun blast to his breast, by an unknown negro man
Henry W Wells
September 1, 1817
homicide
Struck in the head with a wooden pestle by Tom, a slave
Caleb
October 23, 1817
slave
drowning
Either drowned by accident or willfully drowned himself.
Peter
October 23, 1817
slave
natural causes
Died by the visitation of God.
Dick Edwards
December 1, 1817
free
drowning
Voluntarily went in the river and was accidentally drowned
Peggy
Undated, 1817
slave
natural causes
Died a natural death, or died by an Act of Providence.
Joseph
January, 1818
slave
accidental injuries
Died apparently from a kick to the belly in a boxing match.
Bob
February 18, 1818
slave
exposure, alcohol
Died by intoxication and freezing to death
Unidentified
February 18, 1818
slave
exposure, alcohol
Died by intoxication and extreme cold
Unidentified
March 17, 1818
unknown
drowning
Death by accidental drowning.
black
Aggy
March 23, 1818
slave
drowning
Fell into a creek and drowned while trying to cross the creek on a log.
Henry D Carver
May 18, 1818
homicide
Struck in the head with a swingletree and cudgel by George, a slave.
Unidentified
June 4, 1818
drowning
Died by accidental drowning in the James River
black
Charlotte
June 6, 1818
slave
injuries
After taking the body of Charlotte out of the grave, found her head, body and legs very much bruised, and of opinion the wounds were the cause of her death.
Levi
June 8, 1818
slave
drowning
died by being drowned in the waters of the Atlantic near Chincoteague Inlet
black
Isaac Pew
July 12, 1818
free
drowning
Death by accidental drowning.
person of color
Jerry
July 20, 1818
slave
accidental injuries, homicide
Died from being unintentionally thrown upon a seythe blade by Isham.
Sampson
July 26, 1818
slave
suicide
wounds himself willfull
black
Jack
July, 1818
slave
unknown
Due to the state of putrification of the body, cause of death can not be determined.
Burwell
October 7, 1818
slave
accidental injuries
died from wound on the upper part of right knee, occasioned we suppose from an accident
Adkin
December 24, 1818
slave
accidental injuries
In the act of cutting a tree the said tree in falling struck against another tree and a limb was thereby broken and thrown back and fell upon said Adkin which gave him one mortal wound on the head.
John Noble
December 24, 1818
homicide
Struck with unknown weapon in the hands of the slave Davy, property of the late John Noble, caused a mortal wound upon John Noble's skull bone.
Hannibal
February 15, 1819
slave
alcohol
Found dead--no marks of violence appearing on his body and died by intoxication and not otherwise.
John
February 15, 1819
slave
natural causes
Had no marks of violence appearing on his body and died by the visitation of God in a natural way.
Mingo
February 19, 1819
unknown
homicide
Murdered by an unknown person who shot him as they traveled from the county jail to Richmond.
Adam
February 27, 1819
slave
natural caues
Died by the visitation of God.
Unidentified
February 27, 1819
accidental injuries
The death was through the carlessness of its mother and was smothered in the night or morning with out any design or intention
mulatto
Unidentified
May 27, 1819
drowning
Death by accidental drowning.
Jack
June 15, 1819
slave
drowning
Death by accidental drowning.
Soloman Jones
July 3, 1819
free
homicide
Died from being whipped and burned in a most horrid and shocking manner by Thomas Lawther. Lawther was moved and seduced by the instigation of the Devil. The deceased died at the Deep Run Coal pits
person of color
Unidentified
July 4, 1819
unknown
drowning
Death by accidental drowning.
Ceasar
July 7, 1819
unknown
drowning
Death by accidental drowning.
Jonas
August 4, 1819
slave
drowning, suicide
Drowned himself in the North River.
Samuel Coy
September 16, 1819
free
accidental injuries
Died by accident
James Hunter
September 18, 1819
homicide
Assaulted by person unknown, supposed to be a coloured man named Jerry who made many mortal wounds and left his body terribly mangled
Nancy Major
October 5, 1819
free
homicide
Death was occasioned by severe beatings she received from her husband, a negro man slave named John, owned by Thomas Cowls
person of color
Edward Nixon
November 15, 1819
homicide
Came to his death by being beaten with a large fence rail or piece of timber--on the right arm and on the forehead and his skull broken by the hands of--Sam, property of Arthur Butt.
Joe
January 3, 1820
slave
homicide
Died from being stabbed with a knife by John, a slave belonging to the Estate of John Butts.
Davey
January 13, 1820
slave
natural causes
Died by the visitation of God, in a natural way.
Isaac
January 17, 1820
slave
homicide
Struck with pipe or some other weapon by Robbin.
William Woodram
February 9, 1820
homicide
Died from a mortal wound to his head by a stick, in the hands of the slave Jordan, owned by Thomas Taylor, deceased most likely a white man
Davy
February 19, 1820
unknown
natural causes
Came to his death by the visitation of Providence.
James Cook
February 21, 1820
free
natural causes
Died in a natural way by the visitation of God.
Ben
March 6, 1820
slave
inconclusive
Cause of death unknown, body found in mill pond
Unidentified
March 11, 1820
homicide
Murdered by a wound in the head and severe grip around the neck.
Unidentified
March 11, 1820
homicide
Murdered by mortal wounds to the head and neck.
Jerry
April 16, 1820
unknown
drowning
Death by accidental drowning.
Lew
April 30, 1820
slave
natural causes
died by the visitation of God in an natural way
Lucy
May 15, 1820
slave
homicide
Some person unknown--did feloniously, volentarily and of malice forethought made an assault--with some unlawful weapons inflicting multiple wounds of which Lucy died.
Jim
June 5, 1820
slave
accidental injuries
Died when a bank of earth fell on him while he was digging gravel
Ned
June 15, 1820
slave
natural causes
Died by the visitation of God in a natural way
Luke
July, 1820
slave
homicide
Was shot in the back with a shot gun in the hands of George Sturdevant.
James
August 12, 1820
unknown
drowning
Accidentally drowned by falling into the river.
Unidentified
August 21, 1820
unknown
homicide
Killed by Nicholas P Hairston, who testified that he acted in self defense.
Moses
September 21, 1820
slave
drowning
Accidentally drowned.
Fed
October 16, 1820
slave
natural causes
death from the visitation of God
Betsey Turner
November, 1820
free
accidental injuries
Died of burns received in a house fire.
person of color
Larn Rann
December 4, 1820
free
homicide
Was stabbed to death with a jack leg knife by Allen Blythe.
person of color
Sukey
December 21, 1820
slave
homicide
Died from assault, mortal wounds, and bruises to the head and body by Anderson Blanton and Elizabeth Blanton
Unidentified
December 24, 1820
natural causes
Visitation of providence
Venus
January 7, 1821
slave
injuries
Was not killed by violence, but the severe treatment she received from Frances Bashaw hastened her death.
Ben
January 12, 1821
slave
homicide
Shot in the back and killed by William Claud Jr.
Unidentified
January, 1821
slave
infanticide
Violence by mother named Nancy
Edmund
January, 1821
slave
homicide
Blows and bruises inflicted by Randall, a stage driver
Unidentified
February 16, 1821
unknown
drowning
Accidentally drowned.
Peter
March 15, 1821
slave
natural causes
Died by the visitation of God in a natural way
Unidentified
June 30, 1821
drowning
Accidental drowning
black
Unidentified
September 6, 1821
unknown
drowning
The body was in such a state of putrefaction and so disfigured by birds or fish as to render it impossible for this jury to say whether or not any violence had been used toward it; therefore the jury is compelled to suppose that the body was accidentally drowned.
Peter
September 8, 1821
slave
accidental injuries
Died of an accidental death; falling of a tree limb caused his death
Daniel
September 16, 1821
accidental injuries
By accident
Isham
October 18, 1821
slave
suicide
Died by his own imprudent act by hanging himself by the neck, while a prisoner in the jail.
Davy
October, 1821
slave
drowning
While attempting to cross the Nottoway River in a canoe he fell overboard and drowned.
Jane Hunt
December 15, 1821
homicide
Killed with an ax by the slave Henry, property of James Hunt.
Lilly Ann Hunt
December 15, 1821
homicide
Killed with an ax by the slave Henry, property of James Hunt.
Obedience Hunt
December 15, 1821
homicide
Killed with an ax by the slave Henry, property of James Hunt.
Moses Reid
January 7, 1822
unknown
exposure
Perished from intense cold during the late severe snowstorm.
black
Garland Harris
January 13, 1822
free
homicide
Shot in the head by Spencer, property of __ Saunders of Franklin County, for taking Spencer's wife.
person of color
Barnett
March 18, 1822
slave
alcohol, exposure
Died from an intemperate use of intoxicating spirits and subsequent exposure to the severity of the weather.
Lewis
March, 1822
slave
homicide
Was killed by the blow of an axe across the left side of his head, at the hands of John Harriss' slave Tom.
Isaac
April 4, 1822
slave
homicide
Killed by the blow from an axe by which the skull was broken by a slave named George, belonging to heirs of Richard Adeon.
Jesse
May 8, 1822
slave
drowning
Drowning
John
May 13, 1822
accidental injuries
Accidentally falling and being caught in plaister mill cog wheel and wallower
Epes Allen
May 13, 1822
free
natural causes
Died by the visitation of God in a natural way.
person of color
Mary
May 18, 1822
slave
accidental injury
while Mary was amusing herself with a gun--did receive by the accidental discharge of the said gun--in her forehead
black
Susan
May 23, 1822
suicide
Willfully jumping into the Potomac
Unidentified
May 30, 1822
unknown
drowning
Accidentally drowned.
Hampton
June 10, 1822
slave
suicide
Struck himself with a rasor across his throat, inflicting one mortal wound.
Carper
June 17, 1822
slave
unknown
Died from some unknown cause other than the flagellataion recently received from his master.
Parker
June 30, 1822
slave
drowning
died by being drowned
black
Daniel
July 24, 1822
slave
drowning
Accidental drowning
Ellick
July, 1822
slave
natural causes
Visitation of God in a natural way
Judea
July, 1822
slave
suicide
Suicide by drowning
Priscy Turner
July, 1822
free
homicide
Was beaten with whips and sticks in the hands of Edwin Croslin, Lemuel Daughtrey, Matthew Gardner and Solomon Daughtrey Jr.
person of color
Edy
August 6, 1822
slave
homicide
Feloniously killed and murdered by Plato
, property of William Millnor.
mulatto
Affrica
August 15, 1822
slave
homicide
Killed by a gun shot inflicted by John R Rays, who was acting in self defense.
black
Johnathan Carroll
September 4, 1822
homicide
Loaded gun being discharged at him by a negro boy named Forrester
Unidentified
November 14, 1822
unknown
drowning
Accidentally drowned.
Daniel
November 19, 1822
slave
homicide, injuries
Was--assaulted by the striking and beating about the head by William Coleman.
Rose
December 11, 1822
slave
natural causes
Died a natural death.
Amy
December 26, 1822
slave
suicide
Suicide by drowning in Appomattox River.
Briscoe
January 6, 1823
slave
exposure
Died from the want of assistance
person of color
Israel
January 12, 1823
unknown
exposure
died by being frozen
black
Davy Cooper
January 16, 1823
slave
exposure, alcohol
Died by making too free use of spiritous liquors, and lying out until he freezed to death
Sam
January, 1823
slave
natural causes
Died a natural death.
Lucy
February 10, 1823
slave
natural causes
Died by the visitation of God.
Claiborn
March 4, 1823
slave
homicide
Was shot and murdered by Thomas Mason.
Peter Dokey
March 9, 1823
free
drowning
died by being drowned and suffocating in water
black
Unidentified
March 29, 1823
drowning
Died by accidental drowning
Bob
April 14, 1823
slave
homicide
Died from the wounds he received on his head, inflicted by the hands of the negro slave Scott.
Billy Branch
April 19, 1823
slave
drowning
Killed by an accidental fall from the bank of the James River Canal, while engaged in a scuffle or fight with a slave named Shadrach
Juda
April 23, 1823
slave
inconclusive
death by non-violence
Peter
May 21, 1823
slave
drowning
Went to fish in Appomattox River, had a fit, fell into the river and was drowned
Philip
May 21, 1823
slave
homicide
Feloniously killed and murdered by an unknown person with a shot to the forehead from a pistol.
Phil
June 16, 1823
slave
suicide
Hung himself from the limb of a pine tree using a grape vine.
Anthony
June 23, 1823
slave
drowning
Died by accidental drowning.
Nat
July 9, 1823
slave
homicide
Maliciously and feloniously killed and murdered by some person or persons unknown.
Nelson
July 10, 1823
slave
drowning
Accidentally fell out of a raft and was drowned.
Nelly
August 1, 1823
slave
injuries
Died in consequence of the severity of whipping inflicted on her by George Halson and others acting in pursuance of the master's orders.
Edmund
August 13, 1823
slave
accidental injuries
accidentally shot by slave named Ephraim, also owned by Hicks
Unidentified
January 5, 1824
slave
natural causes
Died by the visitation of Providence
Polima
January 19, 1824
slave
injuries
Died from severe, unmerciful and inhuman treatment and wounds inflicted by her owner, William T Fletcher.
Unidentified
February 2, 1824
inconclusive
Died by some causality unknown to the jury
Joe
February 23, 1824
slave
exposure
Died by stragling off and freezing to death.
John Epps
March 8, 1824
free
homicide
Was murdered by John W G Hardy by assaulting Epps on the left part of his head near the left eye with a wooden hame with an iron ring and staple therein.
person of color
Unidentified
April 2, 1824
unknown
drowning
Died from being drowned. Was in the water so long and is so mutilated, jury cannot account for his death otherwise than by supposing he was drowned.
Scipio
April 12, 1824
slave
drowning
While attempting to cross Thomas Coleman's Mill Pond, Scipio was carried over the mill dam and was drowned.
Alice
June 14, 1824
slave
unknown
Cause of death is not shown.
Unidentified
June 22, 1824
unknown
homicide
Feloniously killed and murdered by her mother, Anna Jenkins, alias Anna Martin.
Eleanor Harris
June 24, 1824
suicide
Voluntarily drowned
person of color
Nancy
July 23, 1824
slave
drowning, homicide
Was drowned using force and violence by her mother Milley in Cub Creek.
Ceasar
July 26, 1824
slave
natural causes
died by the visitation of God in a natural way
Jim
July 27, 1824
slave
accidental injuries
Death is assumed to be from overheating himself and then drinking too much cold water.
Frank
July, 1824
slave
accidental injuries
Died from a blow to his head by Cyrus Parkus without an intention to kill.
Unidentified
August 5, 1824
unknown
drowning
Accidentally drowned.
black
Jim
August 21, 1824
slave
drowning
Was scuffling with the slave John, belonging to Holley Welch, when they fell overboard and dJim was accidentally drowned.
Henchey
September 20, 1824
unknown
natural causes
Died by the visitation of God in a natural way.
Nehemiah
November 28, 1824
unknown
natural causes
died by the visitation of God
black
Israel Askins Jr
December 25, 1824
homicide
Discharge of wadding from a loaded gun without shot by William Roper, a boy of color
Sam
January 3, 1825
slave
accidental injuries
Accidentally fell from a tree
Celia
January 10, 1825
slave
natural causes
Died by the visitation of God.
Charlotte
February 2, 1825
unknown
exposure
Perished from violent cold and fatigue, having lost her way traveling in a very severe snow storm.
Joe
February 8, 1825
unknown
exposure
Perished from fatigue and cold traveling during a violent snow storm.
Phill
February 24, 1825
slave
homicide
Hilliard Johnson (a free man of color) then and there violently struck and gave to the said Phill a blow in and upon the forehead producing a mortal wound.
Mourning Browne
February, 1825
free
homicide
Killed by Benjamin Brown, a free negro, with a stick or club struck her head.
person of color
Nancy
March, 1825
slave
exposure
death from freezing in the late snow storm
Lucy
May 2, 1825
slave
natural causes
Died by the visitation of God in a natural way
Sylvia
May 30, 1825
slave
suicide
died from cutting her own throat
Abram Logan
July 21, 1825
free
drowning
Accidently drowned in John Aston's mill pond
free person of color
Frank
July 28, 1825
slave
homicide
Struck and pierced with stone or some other weapon in the hands of Sencer Chandler.
Larkin
July, 1825
slave
drowning
Drowned when he accidentally fell into the well.
Charles
September 16, 1825
slave
drowning
Accidental drowning
Jack
October 1, 1825
slave
homicide
shot six times on his left side with a gun by a person or persons unknown
George
October 17, 1825
slave
unknown, drowning
Cause of death is unknown due to the state of putrification of the body; may have drowned.
Taff
November 22, 1825
slave
drowning
Accidently fell out of a boat and drowned in the James River
Allen
November 29, 1825
slave
natural causes
died by the visitation of God
Cyrus
December 2, 1825
slave
drowning
Drowned
Nelley
December 9, 1825
slave
unknown illness
died from an unknown cause
Lettice
December 14, 1825
slave
exposure, natural causes
Died from excessive cold or in a fit.
Unidentified
December 19, 1825
unknown
drowning
Accidentally drowned.
Dave
December 22, 1825
slave
unknown illness
died from unknown causes
Katy
December 26, 1825
slave
natural causes
Died by sudden visitation of Providence.
Argyle
January 3, 1826
slave
natural causes
Died by the visitation of Providence.
Freeman
January 9, 1826
slave
homicide
Was murdered by the slave Anthony by the shooting of a gun loaded with large shot into the body of said Freeman.
Unidentified
March 8, 1826
drowning
Died by accidental drowning in the James River
Allen Drury
March 14, 1826
free
exposure, alcohol
Being overcome by intoxication, did remain exposed to the inclemency of the night and thereby came to his death.
person of color
Unidentified
April 2, 1826
natural causes
Died a natural death
black
Charles White
April 9, 1826
slave
drowning
Died by drowning when he fell from his boat while fishing in the James River
Richard White
April 17, 1826
free
natural causes
Died by the visitation of God, in a natural way, and not otherwise.
person of color
Richmond
June 11, 1826
slave
drowning
Death by providential visitation which resulted in drowning by either having been strangled with the water or having been seized with a sudden spasm
Unidentified
June 22, 1826
drowning
Died by accidental drowning in the James River
Adam
June 27, 1826
slave
drowning
Drowned while bathing in the creek.
Unidentified
September 26, 1826
unknown
natural causes
Probable death caused by being stillborn.
negro or mulatto
Unidentified
October 28, 1826
slave
drowning, infanticide
Drowned, but not able to determine if it was still born or murdered after its birth by the mother.
Chelce
November 8, 1826
slave
homicide
Killed by the slave Fagan, with a wooden mall struck and broke the skull of Chelce.
Henry
November 21, 1826
slave
natural causes
Died by the visitation of God in a natural way.
John
November 23, 1826
slave
homicide
Death was produced by a blow on the right side of his head just behind his ear with some other small signs on the head.
Sally Shields
November 26, 1826
homicide
Was stabbed in the throat and neck by her slave, Nelly.
Henry
December 11, 1826
slave
homicide
Was killed by Hall with an axe to the head.
Unidentified
January 24, 1827
slave
natural causes
Death during the birth process.
Elsey
February 12, 1827
slave
exposure
Believed she froze to death.
Unidentified
April 7, 1827
unknown
drowning
Accidentally drowned.
John Hamlin
April 9, 1827
homicide
Was violently assaulted, choaked and suffocated to death by his own slaves; the said slaves further did burn the body of John Hamlin to ashes with fire, scattered the bones and ashes and partially concealed the same by ploughing over the bones and ashes, and the heart of John Hamlin was found.
Bob
May 14, 1827
slave
homicide
Was feloniously killed and murdered by the slave names Nelson, by using a bar to strike two mortal blows to the head of Bob.
Caesar
May 28, 1827
slave
natural causes, accidental injuries
died by the visitation of God, or by a fall from a tree
Sinah
June 11, 1827
slave
natural causes
Died by the visitation of God in a natural way.
Unidentified
June 25, 1827
unknown
unknown, natural causes
Child was born dead, cause of death is unknown.
person of color
George
July 15, 1827
slave
drowning
Drowned when John Edmonds upset the canoe.
Isaac Reed
July 19, 1827
free
homicide
Died from acts of violence against his body committed by William Grace, Samuel H Whipple and David Henderson, whipped and hung by rope
person of color
Billy
July 19, 1827
slave
homicide
James L Hill
August 4, 1827
homicide
Died by several blows to the right side of head inflicted by Jerry Brefrie.
Phill
August 29, 1827
slave
homicide
Killed by Benjamin A Harrison by being shot in the left side of his back with a shot gun.
Cooper
September 6, 1827
slave
drowning
Drowned while running away.
Wiche
September 6, 1827
slave
drowning
Drowned while running away.
Unidentified
September 13, 1827
slave
inconclusive
Death from unknown causes but jury believed death was caused by some improper conduct of its mother Airy who buried the infant in a secret manner. The jury found it equally probable that the infant's death was caused by Airy's fall down some stairs a few days before birth
George Robinson
October 2, 1827
slave
drowning
Died by drowning when he accidentally fell overboard from a boat in the James River
Will Wiggins
October 4, 1827
free
natural causes
Died by the visitation of God.
Unidentified
November 18, 1827
unknown
drowning
Accidentally drowned.
person of color
John
November 19, 1827
slave
exposure, alcohol
Died by intemperance, in having been intoxicated and the night being a cold one
Elbert Mosby
December 20, 1827
homicide
Died from an assault with a knife, pistols, and club by Robert Mendum and Harry
Unidentified
January 9, 1828
drowning
Died by accidental drowning in the James River
Anne
January 14, 1828
slave
natural causes
Died by the visitation of God.
Abraham
March 4, 1828
slave
suicide
Being moved and seduced by the instigation of the Devil, died when he hung himself with a rope by the neck from a dogwood tree
Unidentified
April 5, 1828
infanticide
Drowned in a well after birth by persons unknown
mulatto
John
April 12, 1828
unknown
natural causes
Died by the visitation of God.
Natt Ash
April 27, 1828
free
homicide
Murdered by being cruelly and inhumanely beaten or stabbed by four colored persons unknown.
Shadrac James
June 18, 1828
accidental injuries
Died when a brick chimney blew down in a rain and wind storm and caught him under it
person of color
Edmund
June 30, 1828
slave
drowning
accidentally drowned
black
John
June 30, 1828
slave
drowning
accidentally drowned
black
Levin
June 30, 1828
slave
drowning
accidentally drowned
black
Mark
July 5, 1828
unknown
drowning
Accidentally drowned.
James
July 15, 1828
slave
drowning
Death came by being alarmed by information of there being patroling at or near Nelson Ferry on Staunton River, he ran off to the river attempting to cross it and drowned.
Dick
August 29, 1828
slave
homicide
Was shot in the face by an unknown person.
Willis
October 2, 1828
unknown
drowning
Accidentally drowned.
Judy
October 17, 1828
slave
accidental injuries
Died from the fall of a bank of dirt at which she and others were at work.
Nancy Green
December 4, 1828
homicide
Was killed and murdered by being hung by a cord around her neck by the hands of slaves named Sydna and Eliza.
Edward
December 24, 1828
slave
accidental injury
accidentally burnt to death
black
Isaac
January 8, 1829
slave
drowning
Accidentally drowned when boat he was on with four other persons overset and all persons were thrown overboard.
Elia
January 18, 1829
slave
natural causes
died by visitation of God
black
Unidentified
January 21, 1829
natural causes
Died by the visitation of God
Jim
February 3, 1829
slave
alcohol, exposure
Died from freezing, as he was intoxicated on the night of his death
Rachael
February 16, 1829
slave
homicide, injuries
Died from the results of being beaten, bruised and whipped by Isham W Clements, from the crown of her head to the sole of her feet.
Isabel
February 18, 1829
slave
homicide
Murdered by her hired owner John S Marley, who struck her with a club or stick on the right shoulder and left thigh in November 1828. Isabel languished under the said beating until she died on 13 Feb 1829.
Sarah
March 18, 1829
slave
natural causes
Died by the visitation of God in a natural way
Simon Jinkins
March 21, 1829
free
exposure
Froze to death.
Rebecca
March 26, 1829
slave
drowning
Death by drowning, either accidently falling into Flat Creek or throwing herself into the creek.
Willis
March 26, 1829
unknown
drowning
Accidentally drowned by the sinking of a lighter in Lake Drummond on board of which he was employed.
Unidentified
April 3, 1829
drowning
Died by accidental drowning in the James River
Unidentified
April 6, 1829
slave
infanticide
Infant died by the inhumane conducy of its mother Judea who wrapped it in cloths and placed it in a closed wooden box
Cain
May 15, 1829
slave
drowning
Death by drowning while endeavoring to escape his pursuers who were trying to apprehend him upon a charge of theft
John
May 28, 1829
slave
drowning
Accidentally drowned in Flat Creek.
Ritter
June 15, 1829
slave
unknown
Said by rumour to have been brought to her death by the treatment of Carter. Body was buried on 1 April 1829 and in ground too long to make examination, so have taken uncommon pains to trace the report to its source which we are fully convinced is groundless and false.
Sally White
June 15, 1829
free
natural causes
Died by the visitation of God, in a natural way, and not otherwise.
person of color
Isaac
July 20, 1829
slave
natural causes
Died by the visitation of God in a natural way.
Harvey
August 3, 1829
slave
drowning
Accidental drownin while bathing
Thornton B Stone
September 26, 1829
homicide
Parker and Fama, slaves owned by Daniel Stone, with their fists struck Stone on the right breast which caused his shoulder and other parts to give way, received two mortal wounds which caused his instant death.
Charles
October 3, 1829
slave
natural causes
Died under a sudden dispensation of Providence.
Unidentified
October 9, 1829
unknown
drowning
Accidentally drowned.
Nanny
October 23, 1829
unknown
exposure
came to his death by being exposed to the cold
black
Caroline
November 2, 1829
free
inconclusive
Cause of death unknown but jury said it was in evidence before them that William Hall, with whom Caroline lived, tied and whipped Caroline and that after the whipping, Caroline became ill and fell into a stupor state until her death though the jury found no marks of violence on her body
person of color
Moses
November 12, 1829
unknown
homicide
Died in consequence of wounds unlawfully inflicted by some heavy weaon upon the breast and body generally by Thomas Hodges and John M Cherry.
Sandy
November, 1829
slave
homicide
Was shot by Jacob B Bryant after he (Sandy) was seen with a stolen hog, which had been killed and was over a fire.
Unidentified
December 5, 1829
unknown
drowning
Accidentally drowned.
black
Joshua
December 6, 1829
slave
natural causes
Died by visitation of God in a natural way
Elijah
December 21, 1829
slave
injuries
Died from a wound to the head over the left eye.
Unidentified
January 11, 1830
unknown
drowning
Accidentally drowned.
black
Unidentified
January 28, 1830
unknown
infanticide
Was suffocated by a string tied around its neck, at the hands of Cherry Green, a free woman of color.
Cornelius
March 27, 1830
slave
natural causes
Died by the visitation of God in a natural way
Jonas
March 27, 1830
unknown
drowning
Was intoxicated, fell into the N W River Canal, and was accidentally drowned.
Anderson
March, 1830
slave
alcohol, accidental injuries
Died of intemperance or by some accidents unknown.
Unidentified
May 25, 1830
unknown
unknown illness
death from causes unknown
black
Hockaday Homes
June 1, 1830
free
drowning
Died by accidently drowning in the James River
person of color
George Moore
July 12, 1830
slave
homicide
Died from an assault with a brick or rock to the right side of his head by Cole Muse (alias Coleman Muse), a free man of color
Washington
August 15, 1830
slave
drowning
Accidentally drowned while attempting to cross the James River
Sam
August 21, 1830
unknown
drowning
Accidentally drowned.
Charles
October 10, 1830
slave
homicide
Charles made an assault on Ned, another slave owned by Josiah Hunter, who struck Charles on the head with an axe.
Billy Wichet
November 3, 1830
slave
homicide
Was feloniously killed and murdered by John Cumminger Waterman by an assault with a stone to the side and top of his head
Peter
December 15, 1830
slave
suicide
Killed himself by tying a rope about his neck and tying the other end over a joist in the kitchen
Lydia Thompson
December 17, 1830
free
exposure, alcohol
Froze to death, being intoxicated.
Fanny Johnson
February 6, 1831
free
exposure, alcohol
Intoxication and exposure
person of color
Peggy
February 12, 1831
slave
natural causes
Died by visitation of providence
Unidentified
March 7 , 1831
free
infanticide
Died from neglect and a broken skull after the infant's mother Letitia Briggs, a free person, placed the infant on the ground and covered it with pieces of wood
person of color
Phill
April 11, 1831
slave
drowning
Accidentally drowned in James River by falling from a lighter belonging to French and Jordan of Richmond.
Peyton
May 11, 1831
unknown
drowning
Accidentally drowned.
Harry
June 13, 1831
slave
natural causes
Died by the visitation of God in a natural way.
Miles
June 30, 1831
slave
drowning
Died by drowning in the James River
Jim
August 1, 1831
slave
drowning
Died by drowning when he accidentally fell into Great Guinea Creek.
Solomon
August 10, 1831
slave
drowning
Died by drowning when he fell from onboard a steam boat into the James River
John
August 16, 1831
slave
homicide
Assaulted by the slave Reuben with a hand spike to the head and face of the said John.
Spencer
August 25, 1831
unknown
unknown
Death by some unknown person.
Frank Lewis
September 21, 1831
free
natural causes
Died by an act of God in a natural way.
person of color
Milley
November 3, 1831
unknown
accidental injury
accidentally burned to death
black
Manuel
November 7, 1831
slave
accidental injuries, drowning
Death from a fit or by some unknown accident by which he fell into the spring and was drowned.
Milly King
November 7, 1831
free
homicide
Murdered by Wyat Johnson, a free negro, who struck her in the head and neck with an ax. The blows caused King to fall from her chair onto her infant son, causing the death of the infant
Unidentified
November 7, 1831
free
homicide
Murdered by Wyat Johnson, a free negro, who struck her in the head and neck with an ax. The blows caused King to fall from her chair onto her infant son, causing the death of the infant
Milly
November 7, 1831
slave
disease
Died of a diseased womb
Andrew
December 7, 1831
unknown
exposure
came to his death by accidental freezing
black
Stehney
January 13, 1832
slave
alcohol, exposure
Died from intemperance, and due to the inclemency of the weather he was frozen to death.
Lucy
January 13, 1832
free
exposure
Wandered into the woods, probably from a state of mental derangement, and there perished from the cold.
Hesekiah Jackson
February 26, 1832
free
accidental injuries
Death by a loaded wagon running accidently over his body and head.
person of color
Marinda
February 27, 1832
slave
suicide
Hung herself with a silk handkerchief from a bough of a pine tree.
Tom
February 29, 1832
unknown
drowning
Accidentally drowned.
London Custis
March 1, 1832
free
natural causes
died by the visitation of God
black
Peg
March 13, 1832
slave
homicide, injuries
Was assaulted with cowhides in the hands of Edwin Gray and John O'Donnelly (alias O'Dunally).
Tom
March 13, 1832
slave
natural causes
Died by the visitation of God in a natural way.
Isaac
March 16, 1832
unknown
natural causes
died by the visitation of God in a natural way
black
Unidentified
May 4, 1832
slave
infanticide
Struck and pierced with an iron object in and upon the body causing instant death.
person of color
Unidentified
June 9, 1832
unknown
drowning
Accidentally drowned.
person of color
Henry
June 10, 1832
slave
drowning
Drowned in attempting to swim across Johns Creek.
Jim
June 15, 1832
slave
accidental injuries
Died by accidentally falling from Thomas Hobson's mill dam onto the rocks below.
Dick
June 18, 1832
slave
alcohol, exposure
The said Dick through intoxication did lie out and froze to death.
Nanna
June 23, 1832
slave
unknown
Death by convulsively to the part of personal violence. We are unable to tell or in whatever manner she did come by her death.
John
June 25, 1832
unknown
drowning
Accidentally drowned.
Bailem Reed
June 30, 1832
homicide
Came to his death by kicks and blows to abdomen inflicted by Godfrey, a slave belonging to Patrick Foley
Aberdeen
August 3, 1832
free
natural causes
Died from a sudden visitation of Providence.
person of color
Joe Bailey
August 7, 1832
free
alcoholism
Died of intemperance.
Ambrose
September 17, 1832
slave
homicide
Was struck several times in the face by his master Jacob McCoy and fell. The examination of the body showed no signs of violence except for a small cut on his upper lip and a contusion on the left eye. Death determined to be a case of chance occurring without any design or intention
Abraham Copeland
October 29, 1832
free
homicide
Death caused by an injury by which his skull bone was broken, inflicted by or with the knowledge of Allen Creekmore and William Jordan.
person of color
John
November 2, 1832
free
alcoholism
Died from intemperate drinking
person of color
Unidentified
November 21, 1832
drowning
Died by drowning when he accidentally fell into a small pond of water at Poplar Spring
person of color
Cumber Tynes
December 3, 1832
free
natural causes
Died by the visitation of God in a natural way
person of color
John Martin
January 7, 1833
unknown
drowning
came to his death by drowning from the accidental upsetting of the schooner John
black
Godwyn Artes
January 22, 1833
free
homicide
Assaulted and beaten about his body, arms, face and head with large and heavy sticks, and broke his skull. Assaulted by John T Bains, Benjamin E Bains, James Jackson, Richard Robertson and William Joyner.
person of color
Jordan
January, 1833
slave
exposure
Froze to death.
Griffin Scott
March 25, 1833
free
drowning
Accidental drowning
person of color
Davy
April 6, 1833
unknown
natural causes
Found dead--no marks of violence appearing on his body, and died by the visitation of God in a natural way and not otherwise.
William
April 23, 1833
slave
drowning
Died by drowning in the James River
Harry
May 25, 1833
slave
accidental injuries, drowning
Accidentally drowned while engaged at a capstern (capstan) and was struck by a bar flying around and knocked overboard.
George
June 7, 1833
unknown
drowning
Accidentally drowned.
Phoebe
July 20, 1833
slave
suicide
While committed to the jail as a runaway slave, suspended herself by the neck to a bar of the window with a handkerchief until her life was extinct.
Isaac
September 16, 1833
slave
drowning
Drowned himself in Kellor's Mill Pond.
Lucy
September 19, 1833
slave
accidental injuries
Immediate death caused by falling and striking head on the stones of the hearth. Earlier that day Lucy had been whipped by her master as punishment for stealing some trifling article from a neighbor
Mark
September 19, 1833
slave
accidental injury
came to his death by accidentally falling from a saw pit
black
Robert Jones
September 25, 1833
free
natural causes
Visitation by God
Henrietta
October 5, 1833
free
accidental injury
came to her death by accidentally falling in the fire
black
Jim
October 14, 1833
slave
exposure
came to his death by lying out all night
black
Howell
October 17, 1833
slave
homicide
death caused by axe blow into the head by slave Ned
Robin
October 31, 1833
slave
drowning, alcohol
Drowning - intoxicated
Samuel Richardson
November 19, 1833
free
natural causes
After a full examination finding no marks of violence we are of the opinion that he died by the visitation of God in a natural way and not otherwise.
person of color
William Fox
November 21, 1833
free
alcoholism
Died from intoxication
person of color
John Thomas
November 28, 1833
free
accidental injury
came to his death by accidentally getting on fire and burning to death
black
Tom
December 9, 1833
slave
alcohol, exposure
Died from intoxication and exposing himself to the inclemency of the weather.
Jim
December 16, 1833
slave
exposure
came to his death by wandering from home--and lying out all night in the rain and cold
black
Abram
December 25, 1833
slave
natural causes
died by the visitation of God
black
Richard
December 30, 1833
slave
homicide
Death caused by a blow to the head with a heavy weapon.
Jerry
December, 1833
slave
accidental injuries, exposure
Died when he accidently fell into a snow filled gully and froze.
Dick
January 6, 1834
slave
drowning
Drowned.
Jim
January 13, 1834
slave
homicide
Was assaulted at the mill of Jonah Cole by aforesaid Cole with a stick of wook. -- Cole did feloniously kill and murder the said slave.
Unidentified
January 20, 1834
unknown
drowning
Accidentally drowned.
person of color
Dinah
March 3, 1834
slave
alcohol, exposure
Came to her death by intoxication and exposure to the cold. Found dead in the road.
Joe
April 3, 1834
slave
homicide
Death by a blow given to him on the head by a stone thrown at him by a certain yellow man slave called George Quickly said to be the property of the estate of Col. N. Burwell
Unidentified
April 15, 1834
slave
infanticide
Was killed and murdered by its mother, Kesiah, by smothering or by stopping its breath by putting her hand on its face and keeping it there until it was dead. Kesiah did not have God before her eyes, but being moved and seduced by the instigation of the Devil
Unidentified
April 25, 1834
unknown
drowning
Drowned, whether accidentally or otherwise could not be determined.
person of color
Squire Jackson
May 5, 1834
free
natural causes
Died by the visitation of God in a natural way
free person of color
Taylor
May, 1834
slave
homicide
Died by the violence of some kicks or blows which he received from Frank.
Will Charity
June 2, 1834
free
drowning
Accidental drowning
John Valentine
July 24, 1834
free
inconclusive
Came to his death from some unknown cause
person of color
Edmund Mallory
August 20, 1834
free
homicide
Killed and murdered by a knife stab wound to the lower part of his belly by Frank Moss, a free man of color
person of color
Mary Scott
September 2, 1834
free
homicide
Was killed and murdered by Judy Harris, by using some sharp pointed instrument to stab Scott in her breast
Anderson
September 8, 1834
slave
homicide
Died after being struck over the head by Ned, the property of Harden Hairston, with a piece of fence rail.
Nelson
September 23, 1834
slave
accidental injuries, alcohol
Being alone on the North Landing Road himself voluntarily or accidentally, being drunk, in a steer cart, caught his head between the spokes of said cart and caused his death.
George Hatiney
November 7, 1834
free
natural causes
came to his death by the visitation of God
black
Tom
November 17, 1834
unknown
alcohol; exposure
came to his death--occasioned by intemperence and cold
black
Edward Jones
November 18, 1834
homicide
Was murdered by the slave Nelson by inflicting sundry wounds on the head, neck, back and arms with an ax
George
December 13, 1834
slave
natural causes
came to his death by the visitation of God in a natural way
black
Caleb
December 14, 1834
slave
accidental injury
came to his death by an accidental fall off a tree
black
Joe Smith
December 15, 1834
free
drowning, alcohol
Drowned when he fell out of his boat while crossing the Nottoway River while intoxicated.
person of color
Pleasant
January 5, 1835
slave
natural causes
Died by the visitation of God in the natural way
Abby
January 21, 1835
slave
natural causes
Died by the visitation of God in a natural way
John Dugard
February 27, 1835
drowning
Died by accidental drowning in the James River
person of color
Unidentified
March 13, 1835
unknown
suicide
cut his own throat with a knife
black
Lewis Gray
March 27, 1835
free
alcoholism
Death by intemperence
Moses
March 30, 1835
unknown
drowning
Accidentally drowned by falling into the Dismal Swamp Canal.
Unidentified
March, 1835
unknown
infanticide, accidental injuries
Died by being smothered by accident.
Unidentified
April 21, 1835
unknown
drowning
Accidentally drowned.
Ephraim Seymour
April 28, 1835
free
exposure
came to his death by exposure to the inclemancy of the weather
black
William
June 9, 1835
slave
homicide
Death was produced by wounds and bruises inflicted by some unknown person.
Delilah Taburn
July 10, 1835
homicide
Murdered with knives or other sharp instruments by Henry Mabry, Fanny Jones and Eliza Jones
person of color
Unidentified
July 23, 1835
slave
natural causes
Natural Causes
Marshall Meekins
July, 1835
free
natural causes
Died by the visitation of God in a natural way
person of color
Winston White
August 10, 1835
apprentice
accidental injuries
Fell into the well of Atwood Wash and from said fall White received sundry wounds which occasioned his death, including a broken neck.
person of color
Toby
September 14, 1835
slave
natural causes, homicide
Died a natural death; however, two of jurors stated Toby was killed or murdered by wounds inflicted on the head and chin, and these wounds were inflicted by an unknown person.
Emma
October 19, 1835
slave
drowning
Drowned by falling into the Nottoway River.
Lewis Barnett
November 2, 1835
free
alcoholism
Died in a fit occasioned by intemperence
Lewis Butler
November 2, 1835
slave
drowning
Died by accidentally drowning while aiding and assisting in over-turning a boat at the Old Locks on the James River Canal
Jack Evans
November 2, 1835
slave
accidental injuries
Died in an accident when a limb fell from a tree where he was cutting wood, which fractured his skull
Polly Tigner
November 12, 1835
unknown
drowning
accidentally drowned
black
Betsy Tigner
November 13, 1835
unknown
drowning
accidentally drowned
black
Gabriel
November 16, 1835
slave
homicide
Died from wounds inflicted upon him in his rebellion and violent resistance against his master. A justifiable homicide.
Leven Blake
November 21, 1835
free
drowning
accidentally drowned
black
John
December 19, 1835
slave
homicide
Died from being assaulted, dragged by a rope to a tree, together with excessive choking--and otherwise being mal treated and abused at the hands of Thomas H Vaughan, Pleasanat Ussery, William White, and Collin Wallace.
Ciller
December 21, 1835
slave
natural causes
Died by the visitation of God in a natural way.
Simon
January 1, 1836
slave
exposure
Died from the cold while in a fit of insensibility
Isaac
January 18, 1836
slave
natural causes
Died by the visitation of God in a natural way.
Rolins
February 15, 1836
slave
alcohol, exposure
Died from intoxication and lying out on a Saturday night
Jack
February 15, 1836
slave
homicide, exposure
Died from strikes and bruises inflicted upon his body, head and face by an unknown person, and also from being exposed to the cold.
Sarah
February 25, 1836
slave
accidental injury
camer to her death by accidental burning
black
Donon
March 21, 1836
slave
accidental injuries
Died by being severely burned when his body caught fire from sitting too close to a heap of burning logs.
Caleb
March 28, 1836
slave
alcohol; exposure
came to his death--supposed to be in a state of intoxication and from cold
black
Bob
April 4, 1836
slave
suicide
Suicide by drowning
Eli
May 2, 1836
unknown
drowning
Accidentally drowned.
Margaret
May 10, 1836
slave
natural causes
came to her death in a natural way--during a violent paroxysm of passion
black
Judith Cary
May 16, 1836
free
unknown illness
Died by strangulation or suffocation from the blood
person of color
Unidentified
May 25, 1836
free
natural causes
came to his death in a natural way
black
James Sample
June 20, 1836
free
drowning
came to his death by accidental drowning
black
Cassey Mitchell
June 20, 1836
free
drowning
came to her death by accidental drowning
black
Levin
June 20, 1836
slave
drowning
came to his death by accidental drowning
black
Fanny Myers
July 11, 1836
free
drowning
Came to her death by being drowned.
Bob
July 19, 1836
unknown
drowning
Accidentally drowned.
Unidentified
August 15, 1836
infanticide
Inhumanity of Parents or other persons unknown
Edmund Thompson
August 15, 1836
homicide
Blow to the head by a rock by Jerry Valentine
Peter
August 16, 1836
slave
drowning
Died by drowning when he jumped overboard from a steam boat while he was being pursued
Patrick
August 17, 1836
slave
natural causes
Death by a visitation of God in a natural way
Isaac
September 4, 1836
slave
drowning
accidentally drowned
black
Sam Tyne
October 3, 1836
free
accidental injuries
Accidentally shot by Dick Hill a free negro
person of color
Harriet
October 26, 1836
free
accidental injury
standing before the fire--her clothes set on fire and that she ran to the bed and got in bed and set the bed on fire
black
Lewis
October, 1836
slave
natural causes
Died by the visitation of God in a natural way.
Hercules
November 7, 1836
slave
inconclusive
Jury is unable to say with certainty the cause of death
John Burgess
November 15, 1836
free
homicide
Feloniously killed and murdered by being struck and beaten with a gun barrel by Thomas B Parsons.
John McCrosky
November 30, 1836
slave
exposure
came to his death by lying out in the cold
black
Frances
December 3, 1836
slave
unknown illness
Died of some natural disease or infirmity not precisely ascertained
Patty Morton
December 5, 1836
free
exposure
Died from her body lying outside and from exposure to the weather.
Ben
December 13, 1836
slave
drowning
came to his death by drowning
black
Bill Purnal
December 13, 1836
Free
natural causes
died by the visitation of God
black
Robert
December 24, 1836
unknown
alcohol
Came to his death by intoxication.
Daniel
December 28, 1836
slave
alcohol; exposure
came to his death by lying out--in a supposed state of intoxication
black
Joe Mitchell
January 2, 1837
free
alcoholism, exposure
Died from intemperence and freezing cold
Charles
January 10, 1837
slave
accidental injuries
Death was caused instantaniously while he was at work near the foot of a hill of dirt which gave way and slid against him
William Webb
January 10, 1837
homicide
From marks of violence upon the body and head, and the evidence of witnesses had in the premises, strong suspicion rest on Alice Ball, a free woman of color, having been instrumental in bringing Webb to his death.
Jack
January 16, 1837
slave
exposure
Died from the excessive cold of the night when he neglected to return to the house from the field where he was working.
Jacob
January 16, 1837
slave
injuries, exposure
Died from receiving a severe whipping and by being exposed to the cold weather immediately after.
Nancy Thomas
January 18, 1837
free
exposure, alcohol
Exposure to the elements due to intoxication
person of color
Lewis
January 29, 1837
slave
homicide
Murdered by the slave Martin by beating him with sticks and fence rails and by the infliction of six stabs to the body
Easter
February 21, 1837
slave
drowning
accidentally drowned
black
Unidentified
February 27, 1837
slave
natural causes
died by the visitation of God in a natural way
Guy
February , 1837
slave
natural causes
Died by the visitation of God in a natural way.
Bill Jordan
March 6, 1837
free
natural causes
Visitation of God in a natural way
Matthew Howard
April 17, 1837
unknown
drowning
Accidentally drowned.
black
Lenah
May 1, 1837
slave
natural causes
Died by the visitation of God in a natural way
Anthony
May 1, 1837
slave
drowning
Died in a fit of insanity by drowning, either through his own design or by accident
Billy Jenkins
May 1, 1837
homicide
Killed by his wife Easter Jenkins by assaulting Billy with a piece of wood against his heaed
Unidentified
May 6, 1837
person of color
drowning
Died by accidentally drowning in the James River
Ceser
May 23, 1837
slave
drowning
Drowned.
Lucy Slaughter
June 4, 1837
free
natural causes
Died by visitation of God in a natural way.
person of color
Primos Wiatt
June 4, 1837
free
drowning
Accidentally drowned.
person of color
Isiah Johnson
June 8, 1837
homicide
murdered by slaves; Parker; Harry; George; Meriah; Jacob
Barnaby
June 19, 1837
slave
homicide
Murdered and thrown into the river.
Robertson
June 19, 1837
slave
accidental injuries
Died when he and the horse he was riding fell into the mill pond when the planks over the peerhead gave way.
Frank Gainey
June 20, 1837
person of color
natural causes, exposure
Died by the visitation of God due to his great age and exposure at night
John
June 21, 1837
slave
drowning
Accidentally drowned.
Richard
July 21, 1837
slave
drowning
Fell from horse into the water of the Appomattox River and accidentally suffocated and drowned
person of color
Dick Pill
August 13, 1837
slave
drowning
Accidentally drowned.
Peyton
August 14, 1837
slave
unknown
unknown
Berry
August 21, 1837
slave
suicide
Hanged himself from a dogwood tree.
George
October 21, 1837
slave
drowning
Fell into a pond of water and drowned
Jessy Dyes
November 20, 1837
unknown
accidental injuries
Came to his death accidentally.
black
Mary Hart
November 22, 1837
unknown
natural causes
Died by the visitation of God.
mulatto
Samuel Gay
December 2, 1837
unknown
accidental injuries, drowning
"Came to his death by being drowned by the improper management of Captain Rawling of the steamboat ""Georgia,"" who ran the boat over the launch where the deceased was. "
black
Clem
December 8, 1837
slave
inconclusive
Died of unknown causes
George
December 20, 1837
slave
accidental injuries
Came to his death accidentally by the falling of a tree.
black
Joe
December 20, 1837
slave
exposure
came to his death from exposure to cold and want of food; lost on his return from Newmarket
George
January 15, 1838
slave
exposure
Died from freezing to death.
John Chappel
January 26, 1838
free
homicide
Attacked and killed by George F. Hall, Peter Turner, Albert Busby and Thomas Cauell
Milly
February 27, 1838
slave
natural causes
died with fits
black
Jordan
March 23, 1838
slave
drowning
Died by accidentally drowning when the boat overturned while crossing the James River
Robert
March 24, 1838
slave
drowning
Died by accidentally drowning when the boat overturned while crossing the James River
Chastain Moss
May 10, 1838
free
drowning
Died by accidental drowning.
person of color
Phill Gramtham
June 18, 1838
free
exposure
Died by lying outside and freezing to death.
person of color
Henry
June 18, 1838
slave
exposure
Died by lying outside and freezing to death.
Littleton
August 7, 1838
slave
drowning
accidentally drowned
black
Cody
August 20, 1838
slave
homicide
murdered by Noah Bundic
black
Joshua
November 3, 1838
slave
homicide
Stabbed by Willis, a slave owned by Jesse Hawley.
Peter Blake
November 27, 1838
free
homicide
Died from blow inflicted upon the head, which penetrated the skull and entered the brain--most likely inflicted with an iron hook.
Robert
November 27, 1838
slave
alcohol, exposure
Died from exposure from the cold, wetness of the ground and from the liquor drink
Militia
November 29, 1838
free
exposure
Died from exposure from the cold, wetness of the ground and from the liquor drink
person of color
Tabitha
December 15, 1838
slave
homicide
death from being struck on the left side of her head with a stick by Peterson Tutor
Jesse
February 4, 1839
slave
natural causes
Visitation of God in a natural way
Sharley
March 4, 1839
accidental injuries
Burned in his room when the stables burned
mulatto
Jacob Ball
March 7, 1839
natural causes
Visitation of God
black
Unidentified
March 26, 1839
slave
homicide
Was choked and suffocated by the hands of Charity, a slave, and grandmother of said infant.
Charles Lively
March 30, 1839
exposure, alcohol
Exposure to weather, intoxicated
Enoch Owen
April 2, 1839
free
exposure, natural causes
Died either by cold or the visitation of the Almighty in a natural way.
person of color
Unidentified
April 5, 1839
inconclusive
Causes unknown to the jury
person of color
Owen
April 6, 1839
slave
homicide
Death by a blow inflicted on his head by Jack, another slave owned by Mrs E Stone.
Frank
April 26, 1839
slave
homicide
Death by a blow given by Robin, who was believed to be acting in his own defense.
Washington
June 3, 1839
slave
drowning
Accidental drowning in a mill pond after entering the pond to bathe.
Isham
July 8, 1839
free
natural causes
Died by the visitation of God in a natural way.
person of color
Daniel
August 2, 1839
slave
accidental injury
came to his death accidentally falling from a horse
black
Moses
August 12, 1839
slave
drowning
After having examined the body and discovered no marks of violence, we come to the conclusion that Moses came to his death by drowning in an accidental manner.
Sally
August 27, 1839
slave
accidental injuries
died by accidental drowning
Isham
August 30, 1839
slave
homicide
Gunshot to the head
Lewis
September 1, 1839
slave
drowning
accidentally drowned
black
James Cosen
December 6, 1839
free
accidental injuries
Accidentally falling and breaking his neck
person of color
Lewis
December 27, 1839
slave
alcohol, exposure
Died from freezing while in a state of intoxication.
Adolphus Whitehead
January 14, 1840
free
disease
Sickness, cough and shortness of breath, without medical treatment
person of color
Henry
January 29, 1840
slave
natural causes
Found dead, had no marks of violence appearing on his body, and died by the visitation of God, in a natural way and not otherwise.
Jack Butt
February 15, 1840
slave
unknown
Came to his death at a time unknown and by the dispensation of Providence.
John
February 28, 1840
slave
unknown
Came to his death from some cause unknown. From the appearance of the body and the marks to be seen upon the legs, produced by whippings spoken of by the witnesses, we do not believe the whippings to have been the cause of the death.
Unidentified
March 17, 1840
slave
infanticide
death caused either by suffocation during birth or strangulation after birth by its mother, Martha
John Davis
March 29, 1840
slave
drowning
Came to his death by the upsetting of a boat, and accidentally drowned.
George
April 13, 1840
slave
accidental injuries
Struck by lightning
black
Corbin Webster
April 13, 1840
natural causes
Visitation of God
black
Moses Hodges
April 13, 1840
slave
drowning
Came to his death by the capsizing of a boat and drowning.
Ned
April 24, 1840
slave
natural causes
Died by the visitation of God in a natural way
George
May 17, 1840
slave
unknown
came to his death by some cause unknown
black
Mitchell Walden
May 21, 1840
free
alcohol, inconclusive
Intoxication and unknown causes
Peter
June 2, 1840
slave
drowning
Accidental drowning.
Newman
July 10, 1840
slave
natural causes
died by the visitation of God, in a natural way
Washington
July 22, 1840
slave
disease, natural causes
Disease or sickness and visitation by God
Jane Gray
September 5, 1840
free
inconclusive
Died by some unknown cause and not by violence
person of color
Dolly
October 12, 1840
free
homicide
Died from being stabbed in the groin by Elijah Salnes Jr and James Salnes.
person of color
Dick
October 12, 1840
slave
unknown
Did not die of a natural death, but cause is unknown.
person of color
Unidentified
November, 1840
unknown
natural causes
Died by the visitation of God in a natural way.
mulatto
Thomas Malory
December 11, 1840
slave
drowning
Died by accidentally drowning when he fell from a wharf at Rockets into the James River
Ben Carter
December 20, 1840
free
natural causes
died by the visitation of God
black
Allen
December 21, 1840
slave
homicide
Was killed by a knife stab wound to his left breast, by the hands of Malinda, also a slave of Thomas Newsom.
Arthur
December 21, 1840
slave
homicide
Was shot in the back and right arm with a shot gun in the hands of Peterson Ivy.
Burwell Bird
December 21, 1840
free
homicide
Was killed by Tom, a slave, by a gun shot to the left breast and side.
Peter Chapple
December 21, 1840
free
drowning
Drowned when he fell into Vick's Mill Pond.
person of color
Frank
December 21, 1840
slave
drowning
Drowned when he lost his way and fell into the swamp.
Lydia Mingo
December 21, 1840
free
homicide
Killed by Matthew Drake by two mortal wounds made upon the right side of her head and throat.
person of color
Seth Mingo
December 21, 1840
free
homicide
Was killed and murdered by Matthew Drake by inflicting violence with a maul on its head and body.
person of color
Ann Pretlow
December 21, 1840
homicide
Killed by Matthew Drake by assaulting her with a maul to the back part of the head.
Sarah C Pretlow
December 21, 1840
homicide
Killed by Matthew Drake by assaulting her with a maul to her head.
James Scott
December 21, 1840
homicide
Killed by Matthew Drake by assaulting him with a maul to the forehead.
Sharper
December 21, 1840
slave
exposure, alcohol
Died from exposure to the cold; he was so intoxicated he could not find his way home.
Tom
January 1, 1841
unknown
natural causes
Death by a Providential visitation.
Edmond
February 10, 1841
slave
drowning
Came to his death by falling off a lighter in Elizabeth River and accidentally drowned.
Littleton
March 10, 1841
unknown
unknown
came to his death by some sudden way not known to the jury
black
Willis Gary
March 21, 1841
slave
drowning
Came to his death in a manner unknown, but since he was found in the creek it is supposed that he accidentally drowned.
Clary
March 22, 1841
unknown
drowning
Died by drowning in the Great Guinea Creek, either voluntarily or by accident.
Sam Bartlett
March 31, 1841
free
suicide, drowning
Drowned himself in the Appomattox River, according to the intelligent and respectable men of the jury.
person of color
Dick
April 5, 1841
slave
inconclusive
Cause of death unknown
Agnes Br